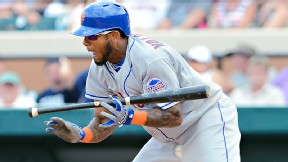 Mark Cunningham/Getty Images
Jordany Valdespin has been cut loose by the Mets.
Jordany Valdespin's troubled tenure with the Mets has ended. Valdespin has been non-tendered by the Mets, a source told ESPNNewYork.com.
Scott Atchison and Omar Quintanilla were cut loose earlier in the day.
Valdespin had plenty of flair, and his signature moment came with a pinch-hit homer against Philadelphia Phillies closer Jonathan Papelbon. But he also had plenty of drama that agitated teammates and Terry Collins. That came to a head in Pittsburgh last season when Valdespin, upset at being demoted, lashed out at Collins. Sandy Alderson was present at PNC Park that day.
Valdespin served a 50-game Biogenesis-related suspension last season.
He was not yet eligible for arbitration.