LAKE BUENA VISTA, Fla. -- Terry Collins addressed several interesting topics during his annual state-of-the-Mets interview at the winter meetings:
• Curtis Granderson will bat fourth, behind David Wright. "With Curtis behind him, they've got to make a decision," Collins said.
Collins acknowledged that Granderson wasn't THE GUY in the Yankees lineup. He only started four games in the cleanup spot for the Yankees this past season. Still, Collins said: "We're certainly hoping to have enough guys spaced out through the lineup to give him help." Collins added that Chris Young or the first baseman, likely Lucas Duda, would bat behind Granderson.
• Bobby Parnell, who underwent surgery on Sept. 10 to repair a herniated disk in his neck, will return to California to be examined by Dr. Robert Watkins early next week. Parnell hopes to be cleared to resume full activities.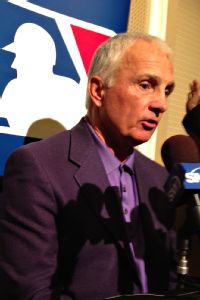 Adam Rubin
Purple-clad Terry Collins speaks at the winter meetings.
Collins said Parnell cannot be counted upon to be the closer until he demonstrates his health in spring training. "I think we've got to wait to see how he shows up," Collins said.
Collins noted that Parnell typically arrives in Port St. Lucie, Fla., in January. So the Mets should have an early read.
• Jenrry Mejia is "in the mix" for a rotation assignment after Jonathon Niese, Zack Wheeler and Dillon Gee. The issue, since Mejia has not thrown more than 108 innings in a season, is whether Mejia can pitch a full season -- even without considering an innings cap.
Of course, using Mejia merely would buy time for Noah Syndergaard or another prospect to open the season in the minors. So it may not be the biggest deal if Mejia couldn't pitch a full season.
Mejia has resumed throwing after undergoing surgery Aug. 28 to remove a bone spur from his right elbow.
• "Right now" Ruben Tejada is the shortstop. Collins suggested Tejada "learned a tremendous lesson" this past season -- that baseball is 12 months, not just five or six months. Collins noted Tejada will return to fitness and nutrition camp in Michigan in January.
"You can tell when they're upset with what happened," Collins said. "Ruben Tejada was upset."
• Collins very much liked how Anthony Recker handled the backup catcher role and is comfortable with him again handling that duty in 2014, which probably will be the case.
• Sandy Alderson said earlier in the day that there is no leadoff candidate beyond Eric Young Jr., so he should be in the lineup somewhere. Collins pretty much agreed, but noted Chris Young led off in Arizona and Daniel Murphy has been a consideration in the past.
• It will be a point of emphasis in spring training for Travis d'Arnaud to shorten his swing. D'Arnaud hit .202 and had 21 strikeouts in 99 at-bats after debuting last season. "Certainly when he gets to spring training we've got some work to do," Collins said.
• Which prospects might make their debut in 2014? Collins mentioned Syndergaard (who almost definitely will open the season in the minors) as well as Jacob deGrom, Rafael Montero, Cory Mazzoni, Logan Verrett, Jeff Walters and Cesar Puello.
Puello was the lone position player mentioned, and Collins said he would open the season in Las Vegas coming off a Biogenesis-related suspension. Collins was unsure whether Mazzoni would be a factor in the bullpen or rotation.
• Collins suggested Wilmer Flores got faster while spending four weeks in Michigan. Is that enough to put him in consideration for a backup middle infield role that includes time at shortstop? That may be a stretch, but Collins wasn't ruling it out.
Collins noted that Flores' ankle injuries never allowed the Mets to get a good look at him at second base after his call-up. "I want to see him at the position he's going to play," Collins said about Flores at second. "... This kid is going to swing the bat."
• Mets pitchers and catchers report Feb. 15, with the first workout two days later.
Read the full Terry Collins transcript here.