LAKE BUENA VISTA, Fla. -- Mets executives departed the winter meetings midday Thursday, having enjoyed what could be labeled a productive week.
The Mets announced on Tuesday their four-year, $60 million deal with Curtis Granderson, which completes the overhaul of the outfield when coupled with Chris Young's previous signing. And they helped offset the sting of losing Matt Harvey for 2014 by agreeing to a two-year, $20 million contract with Bartolo Colon pending a physical.
A team official said the Colon pursuit increased during the winter meetings, and was not something the club had zeroed in on to accomplish when it arrived.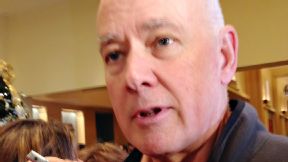 Adam Rubin
Sandy Alderson dissects winter meetings.
"We have three established starters," Alderson said. "It's not quite enough. We have lots of young talent. But we don't want to rely on it entirely. And it also provides us the kind of depth that we're going to need through the course of the season. So adding experienced pitching, whether at the top end of a rotation or elsewhere, was an important factor for us."
Those manuevers lifted the payroll to roughly $87 million, when $4 million is factored in to account for players being on the DL and the Mets paying more than 25 active players at any given time.
The heavy lifting that remains centers on trading first baseman Ike Davis, signing a fifth starter, getting some veteran late-inning bullpen help and at least investigating an upgrade from Ruben Tejada at shortstop. Milwaukee Brewers GM Doug Melvin and Sandy Alderson were spotted chatting again Thursday morning, presumably about Davis, as the meetings were breaking up.
Alderson severely downplayed the chances of the Mets signing free-agent Stephen Drew. While the Mets are prepared to use Tejada, Alderson said upgrades via trade would still be investigated. The Mets also will listen on trade offers for Daniel Murphy, but it is appearing more likely he remains with the Mets.
"I think it's more likely if we come up with a 'high-end' shortstop or someone we like, it's more likely to come in a trade," Alderson said.
As for the progress on the shortstop front, Alderson added: "I wouldn't say we have traction. We have more knowledge today than we did before."
Davis was not traded during the winter meetings, but his days as a Met certainly appear numbered, with the Tampa Bay Rays and Brewers the two most likely destinations. Tampa Bay and Milwaukee both like free-agent James Loney, who is seeking a three-year deal, according to a source. Neither club is expected to bid beyond two years. And once Loney settles on a landing spot, Davis could end up with the club that does not prevail, although Texas' Mitch Moreland also is available. The Pittsburgh Pirates also are believed to be courting Loney.
An official from one team in pursuit of Davis said the Mets are not being unreasonable with trade demands. A trade could happen soon.
"The situation for players ebbs and flows," Alderson said. "In that regard, right now, it seems to be flowing. But, again, things are highly unpredictable."
If Murphy stays and the Mets do not upgrade at shortstop, one interesting lineup question will be: Do the Mets have to get Eric Young Jr. into the lineup and leadoff spot? That was a topic of conversation among club officials later in the winter meetings. There have been some rumblings Juan Lagares could end up on the bench or in Triple-A, despite his Gold Glove-caliber defense. The bottom line: The Mets have such little margin for error that it would be hard to carry an unproductive bat. And they really do not have a clear-cut alternative to Young as leadoff hitter, although they were chatting about alternatives that would allow Lagares to remain in the lineup.
As for what the lineup might look like without Lagares, it sounds like this is plausible based on Terry Collins' statements:
E. Young, lf
Murphy, 2b
David Wright, 3b
Granderson, rf
Lucas Duda, 1b
C. Young, cf
Tejada, ss
If Murphy gets traded, Young could slide over to second base, reopening center field for Lagares. Collins said he is undecided about his Nos. 5 and 6 hitters being Duda-Young or Young-Duda.
The rotation right now: Jonathon Niese, Colon, Zack Wheeler and Dillon Gee. The Mets likely will add an external fifth-starter candidate, probably on a major-league deal with a low base salary -- think a Daisuke Matsuzaka or Aaron Harang type. If it is an internal candidate, it could be Jenrry Mejia, Jacob deGrom or Rafael Montero. Either way, that would allow Noah Syndergaard to open the season at Triple-A Las Vegas and debut in June or July, as Harvey and Wheeler did the past two seasons.
In concluding business Thursday, the Mets selected right-hander Seth Rosin in the major-league phase of the Rule 5 draft. But that was done with the intention of trading him for cash to the Dodgers. He will not be in camp with the Mets.
"Who's on a $5 bill? That would be the player to be named later," Alderson quipped.
The club lost left-handers Jim Fuller and Carlos Vazquez and right-hander Martires Arias in the minor-league phase of the draft. The Mets added Jonathan Velasquez, a Double-A right-hander from the Minnesota Twins organization, in the minor-league phase.
"We're very happy," Alderson said. "And, I think, we're positioned to do perhaps some other things later on. But we're happy with the four days. ... I think what we're going to do is go home, reassess what's available to us. And as we get into the last part of December and even into January, I'm sure we'll do some things. They may not be spectacular -- but, we hope, additive to what we've already done."