NEW YORK -- Sandy Alderson said Tuesday afternoon that two to three teams are potential trade partners for the Mets at shortstop, although the chances of Ruben Tejada starting Opening Day at the position certainly are far greater than at the end of the season.
Alderson, speaking at the Mets' annual holiday party for local schoolchildren, also suggested there is more clarity as far as potential trading partners for Ike Davis. And the GM ruled himself out of the Mets being a candidate for Japanese right-hander Masahiro Tanaka, who may soon be posted.
The specifics: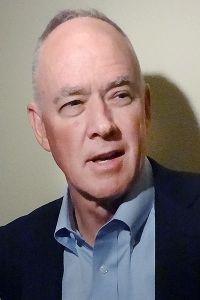 Adam Rubin
Sandy Alderson
• Alderson suggested a handful of teams might be willing to trade a shortstop to the Mets, but Tejada is becoming more likely as the starter.
"Well, I think it is more likely certainly than it was a couple of months ago, let's say," the GM said. "But we've improved the team at other positions. And so giving Ruben a chance to reestablish himself as an everyday player isn't such a bad thing. But we'll continue to monitor what's there from the trade market and conceivably free agency, although there really isn't much left there. There are two or three teams that are possibilities."
• The Mets and Milwaukee Brewers still appear the best trade partners at first base, but the Pittsburgh Pirates also need a first baseman, and potentially the Houston Astros.
On the subject of the first-base market, Alderson said: "It's smaller, both on the supply side and the demand side. Actually that's probably a good thing, because there's more clarity as to the options -- both trade partners and alternatives. We're still talking with a number of teams. I can't say anything will happen. For example, if we were not to get what we wanted in return, we'd have to think of other options, which would be to wait, or to even go into spring training with more than one [first baseman]. Let's see what happens. ... We're not anxious about it."
Alderson suggested he would be looking for an equivalent return to what others have received for trading first basemen. The Miami Marlins, for instance, received 23-year-old right-handed reliever Carter Capps from the Seattle Mariners in a trade for Logan Morrison last week.
• Alderson expects a fifth-starter candidate to be signed on a minor-league deal, so that Jenrry Mejia and presumably Jacob deGrom and Rafael Montero could compete for a spot out of spring training and top prospect Noah Syndergaard would not be blocked from a June or July promotion.
"I don't know that we want to get someone who precludes some of our young starting pitchers from competing for that spot," Alderson said, "which means the people we bring in will have to compete with those young guys."
• Alderson said about pursuing Tanaka: "I think that's very unlikely. ... It's not an area of extraordinary need. Obviously you'd love to have a quality pitcher anytime one became available. But, realistically, I don't think it's an area of weakness at this point."
• The GM implied Daniel Murphy is not a strong leadoff candidate. "It's tough to have a leadoff man with a .310 on-base percentage."
• On the Bartolo Colon signing, Alderson said: "I look at him as a great addition to an otherwise solid three starters."
Regarding handing him a two-year deal, the GM offered this reasoning: "First of all, based on the year he had last year and the last couple of years. Based on our sense of his physical condition -- and that relates primarily to the structure of his shoulder and elbow as opposed to anything else. And the talent/performance reward merited the risk, especially on a two-year deal."