Collin McHugh, who tossed seven scoreless innings in his major league debut with the Mets, has chronicled his life in baseball on his personal blog, "A Day Older, A Day Wiser" for years. He periodically has those entries carried on ESPNNewYork.com as well.
McHugh, who was traded to the Colorado Rockies for Eric Young Jr. on June 18, again changed employers last month when he was claimed off waivers by the Houston Astros. Here is his latest blog entry, an introspective look at his 2013 that included a whirlwind of cities.
He also wanted to say: "I'd like to take a second to thank the Mets family as a whole. My wife and I fell in love with the city and its people, and leaving was a bittersweet step in our journey. Thanks for all of your support! God bless y'all."
It's fair to say that this past year was a lesson in understanding and managing expectations. I moved 11 times in just over eight months. Lived in various hotel rooms for two and a half months straight, from my birthday in mid-June to late August when I was offered a spare room in a recently deceased ... I mean, released ... teammate's apartment. I played for two different organizations and six affiliated teams. I lived in all four U.S. time zones and spent a month in that weird half time zone in Venezuela that's 30 minutes earlier than EST. Get it together, South America.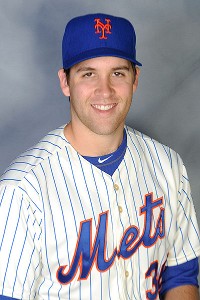 Courtesy of New York Mets
Collin McHugh
My dreams and expectations evolved almost daily. Beginning the year in my first big-league camp with the New York Mets, I expected to get a fair shot (whatever that means) to break camp as the fifth starter in their rotation. Two weeks into camp I was sent back down to the minor league side of Spring Training having been told that there was never a real chance that I was going to head north with the team on April 1. My expectation and destination changed in that moment from the bright lights of NYC to the bright neon desert oasis of Las Vegas. I'd never been to Vegas and all my knowledge of its endless Craps tables came from Chevy Chase in "Vegas Vacation."
We lived a block off The Strip, as it's affectionately called, in a luxury apartment compound that housed about 15 of my teammates and a few local night club promotors/drug dealers. I didn't really have a bunch of preconceived notions about what life would look like out there, but whatever this was, it was certainly different that what I had expected. We rented cars, lived with two roommates (and sometimes more when their wives/girlfriends/family came in town) and learned what real Mexican tacos were all about. We baked in the sun and grilled meat poolside with our teammates. I pitched and pitched very well. We found routine.
Life began to feel pretty normal ... and then I got a phone call. I wish I could've captured that moment in time and bottled it up, because that series of events marked just about every change we experienced over the next few months.
I was told that I got called up and would be pitching in New York again. Trying unsuccessfully to stop my imagination from running wild, I began to plan out what the rest of the year would look like. I would obviously be starting up there and if I continued pitching well I could end up as an integral part of the rotation by years' end.
That was not the case.
I was stuck in the bullpen behind an All-Star closer, a 19-year veteran, a couple left handed flame throwers and just about everyone else (and their dogs). I pitched just six innings in 27 days. I had one really mediocre start in Miami that all but cemented my return to Limbo (aka the back of the pen). In the midst of all of the baseball expectation shattering, my wife and I were playing our living situation very much day by day. We knew that the second we decided to settle into a place in the city we would be sent away. It's a weird gut feeling that's surprisingly accurate. Therefore we couch surfed with friends, extended the stay in our team hotel and generally tried not to get our hopes up. But just as poorly as baseball was going, the team gave no indication of sending me down. Quite the opposite actually. Some coaches told me that it didn't look like the injured player I was up there for was coming back in the near future. Fighting our gut instinct we decided to move our five suitcases and two backpacks into a vacant teammate's apartment on the upper east side. We settled in, slept in an actual bed and bought some simple groceries. It was a big step for us as we set our expectation toward being there for the long haul.
I walked into the clubhouse the next day and was ushered into the manager's office. Now, for those of you who don't realize the significance of that event, let me spell it out for you ... it's not good. You either go into the manager's office to get cut, sent down or fined. I was praying that I had broken some unwritten rule and needed only pay a fine to wash away my sin. No such luck. I was told that I was being sent down and needed to report to Las Vegas again in 24 hours. This was less than 24 hrs since we had moved into the apartment. Less than 24 hours since we made the gut-defying decision to settle down into the expectation of staying put. So 24 hours later I was back in the desert.
After 10 days of getting re-acclimated to Vegas, the phone rang. I had been designated for assignment by the Mets and was not allowed to play, practice or even step foot inside the clubhouse until I cleared waivers. My next step was to figure out what the hell "being designated" and "clearing waivers" meant. How long would that take? What was I supposed to do in the meantime? Was everything about to change again? I read the collective bargaining agreement from front to back, understanding about 3 percent of the lawyer lingo and decided there were no less than 30 different possibilities of how this thing could play out.
We decided, since they're obligated to buy me a ticket home if I want, to go back home to Atlanta and wait out the due process. We flew in the night of June 17, and at 11:50 on June 18 (10 minutes before my 26th birthday) I was told by the Mets front office via phone call that I had been traded to Colorado. They thanked me for my service and wished me luck. It felt like getting dumped. Like the pretty girl at the dance finally realized she didn't have to dance with you anymore. The Mets were family to me. Six years of building relationships with the guys and their wives and kids all washed away in the span of a 35-second phone call.
I looked over at my wife in the back seat of my parents' car and we both felt that first tear crawl down our cheeks. We would officially not be living in New York City. Not be hanging out with Greg, Kai, Murph, or any other teammates and their significant others. We would be moving across the country and leaving everything that resembled security and safety. It all hit us in that moment and we silently wept in the car, holding hands and internally managing whatever expectations were building inside of us.
We celebrated my birthday the following evening and braced ourselves for what was certainly going to be a crazy next three months. By the next morning I was in Tulsa, Okla., playing for the Rockies Double-A affiliate in the Texas League.
The two weeks I spent in Tulsa were spongy. Meaning, I soaked in as much as I could about my new station in life. New people, a new organization with new rules. My expectations of them and their expectations of me. I saw some old familiar faces and forgot everyone's name at least three times. Even though I was immediately the veteran guy on the team, it was pretty humbling to realize how much I didn't know. I was all at once trying to make a good first impression while staying true to who I was. It was a constant battle between "what's expected that should I do?" and "who am I?" It became a daily battle between identity and expectation.
"They traded for me so they must expect some sort of return on their investment."
"I was traded but that doesn't change who I am, what I expect of myself or what I'm capable of."
These divergent conversations were on replay in my mind and there wasn't a clear winner on either side. I became self-conscious. Irritable. Shy. And more importantly, baseball became less and less fun. I still threw the ball pretty well (well enough to be promoted to Triple-A) but the joy that characterized my baseball career for the last couple years was gone. It became increasingly clear that the only way for my expectations to be met was for me to get to Denver and thrive.
Three weeks in Triple-A Colorado Springs and I got called into the manager's office again. I know I told you that no one wants to be called in there, but that was in the big leagues. In the minor leagues there is the possibility of a promotion every time that door swings open. Sure enough, that was the nature of that particular managerial meeting. I was told that I would be starting in a couple days against Milwaukee at home in Denver. Finally!! My chance had come to prove myself. To prove that their investment was a good one. To prove to myself that I was capable, worthy. Five innings and six runs later, my expectations were once again dashed against the rocks of failure.
I spent about 36 hours in Denver during that brief stint. I was sent down the next morning after having packed for a 10-day road trip the team was about to take. The trip went through New York and finished in my home town of Atlanta. My wife was supposed to meet me in both New York and Atlanta, but instead I was sent with my bags packed and suit freshly ironed to Colorado Springs.
I was embarrassed. Embarrassed that I had allowed myself to expect so much. Embarrassed that I had failed again and that my reputation was forever stained. Embarrassed that I couldn't hang on for another three days so that I could see my wife. Life, it seemed, was telling me at every turn that being hopeful was a useless emotion. That the moment I allowed myself to hope, to expect, in something good, the opposite was sure to happen. So I went back to Colorado Springs, tail between my legs, determined to expect nothing from here on out.
It seems pessimistic, I know. That expecting nothing is preferable to expecting success. But the problem I had, the problem I assume most of us have, is that I had substituted expectation for entitlement. I felt as if I had earned some sort of success. As if the work I put in and the price I paid had secured for me some cosmic balance wherein some good things would balance out the bad things. I was playing this eternal game of tug-o-war against a brick wall, determined to pull hard enough to tear it down. The words "fair" and "unfair" kept trickling from my mind to my tongue. I had deemed the events of the year to be good or bad. When in reality, they were just events. Life changing events? Of course! Hard and testing events? Most certainly. But simple turns in the road nonetheless.
I finished the minor league season with Colorado Springs and got a chance to pitch again with the major league team. It was more ups and downs, minor successes and minor failures. Overall the season ended with both my wife and I looking at each other and saying, "We have to figure out a way to deal differently with all of this." We were convinced that our marriage and sanity couldn't take much more of the way we had managed our expectations. I decided that I needed to look at baseball as more of a job and less of a "calling." The roller coaster of events surrounding baseball were taking up way too much emotional space in our lives. It might not change the actual things that happen (how many times we move, how long we get to build relationships with people, how many tacos we get to eat in Vegas), but seeing these events as normal hazards of the job and not personal vendettas on my expectations has made the transitions a bit easier.
Building expectations on a foundation of things you can control is key. I won't set up my expectations to fail because I won't hinge them on how I pitch or where we live. I will build my 2014 expectations on my identity. Who am I and what should I be able to expect of myself in my relationships, my job, my faith? These aren't entitlements. There is no phone call that I can get from a front office executive that can crush my expectation of myself. I control those. God controls the rest. I think that's a pretty fair deal.
In poetic irony, we were just claimed by the Houston Astros on Dec. 18 (my wife's birthday). Since we're talking about expectations, here are a few that we had to break when we heard the news:
• Spring training in Florida and not Arizona
• Not moving to Denver (leaving a community we built there)
• Triple-A team in Oklahoma City is six and a half hours from Houston while Colorado Springs is 45 minutes from Denver. Makes prospective travel a little less convenient.
• Houston is hot. Denver was cold.
• Beach versus mountains.
• Liberal versus conservative.
Just to name a few ... but we believe things happen for a reason. And some things won't change just because we change cities:
• I expect to be a great husband.
• I expect to be a great teammate.
• I expect to treat everyone with respect.
• Baseball will be baseball, but I expect to work my hardest in the hope of reaching my fullest potential as a ballplayer ... wherever that may be.