Jordany Valdespin reportedly has abandoned his Dominican winter-league team during the playoffs after getting upset at getting pinch-hit for during a playoff game by Ronny Paulino. Valdespin immediately packed up his belongings and bolted the clubhouse, according to the Spanish-language report.
Valdespin, who signed a minor-league deal with the Miami Marlins this offseason that does not include a major league invite, has a long history of tantrums.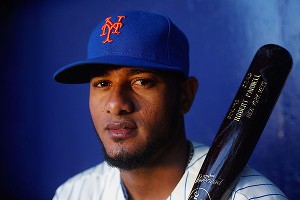 Chris Trotman/Getty Images
Jordany Valdespin has experienced his share of run-ins with authority.
His final major league act as a Met was throwing a fit directed at Terry Collins in Pittsburgh and demanding to be put on the disabled list when he learned he was being demoted to Triple-A Las Vegas. Valdespin was uninjured at the time.
There are plenty of never-publicly-told stories as well about Valdespin's brash behavior.
According to team insiders, after getting promoted to the majors for the first time in 2012, Valdespin demanded closer Frank Francisco buy the rookie suits. Now, it often is a tradition for veterans to buy call-ups one nice suit for road trips since many of the young players do not yet have big bank accounts. But demanding suits? That's not quite how it works.
Major league players already had their antennae raised about Valdespin's antics that spring training.
In a Grapefruit League game, Valdespin reached first base, then started taunting All-Star catcher Yadier Molina from the St. Louis Cardinals, telling Molina he would steal. Mets infielder Ronny Cedeno subsequently pulled Valdespin aside and told him that is not how a player who has yet to appear in the majors ought to treat an esteemed veteran. Valdespin proceeded to curse out the well-meaning Cedeno, who was so upset he no longer wanted to talk to Valdespin.
Valdespin was cut loose by the Mets last month, at the tender deadline. He had served a 50-game Biogenesis-related suspension late in the season.