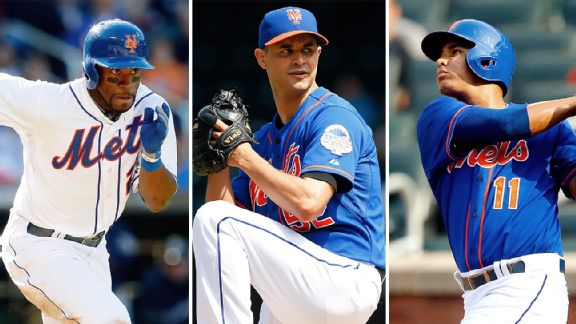 Getty Images
Eric Young Jr., Carlos Torres and Ruben Tejada are out of options.If the Mets want to send fringe 40-man roster players to the minors late in spring training, they will have few issues. The only current players out of options are Ruben Tejada, Carlos Torres and Eric Young Jr.
So, for instance, if Torres were not to make the Opening Day roster, the Mets would first need to pass him through waivers in order to send him to Triple-A Las Vegas.
That means that Jenrry Mejia can bypass waivers and be sent to Vegas without issue if John Lannan or another candidate emerges as the fifth starter.
Ike Davis or Lucas Duda, at least theoretically, could end up in Vegas without other teams being able to put in claims as well.
Other Mets with options: Andrew Brown, Jeurys Familia, Wilmer Flores, Kirk Nieuwenhuis, Zach Lutz, Matt den Dekker, Anthony Recker and Ryan Reid.