NEW YORK -- Mets infield coach Tim Teufel, appearing at a Baseball Assistance Team charity event in Manhattan on a snowy Tuesday, acknowledged he did not expect the team's infield to return intact in 2014. But that's how it appears as spring training nears, with Ike Davis and Lucas Duda still around, as well as Daniel Murphy at second base, Ruben Tejada at shortstop and David Wright at third base.
"If somebody comes calling for a first baseman, we do have an extra one," Teufel said. "We will see what transpires."
Teufel expects Tejada will be fine after last season ended prematurely because of a broken fibula in his right leg. Teufel expressed encouragement that Tejada participated in a fitness and nutrition program in November near Ann Arbor, Mich.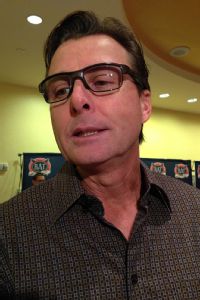 Adam Rubin
Tim Teufel
"I think he just got off to such a slow start last year," Teufel said. "Him going to the [Michigan] camp and making an effort to come into camp in shape and ready to go -- and not being worried so much about putting extra pounds on, but putting good pounds on -- I think he's done that. I'm looking forward to seeing him.
"I think he's a talented young man. I know he can hit. He hit .280 one year and is one of those guys that can get on base as well. Last year he just got off to such a slow start. And spending most of his time in Triple-A, we really didn't get to see a whole lot of him. And then he started playing well and he got hurt. I think this is going to be a different year for Ruben. I think he's going have one of those nice rebound years and really solidify himself as a big-league shortstop."
Asked about Tejada's health returning from the broken leg, Teufel said they had not spoken.
"He's a tough guy to get a hold of, I'll tell you," Teufel said. "But he's been to the camp and so forth. All the reports are he's going to be coming into camp ready to go."
On Wilmer Flores as a second baseman, Teufel said: "He's an interesting guy. He's still young enough. For me to say he can't play second base right now would be kind of a little bit foolish on my part, because the times that I've seen him, he's had bad ankles. He's coming off injuries and sprains and was limited already. How much of an effect that had on his game remains to be seen. I can't wait to see him in spring training as well. He's an offensive player. He can hit and he handles the strike zone well. I think there's something there. It's just now seeing him at full strength. That's what spring training is all about for me."
On Davis' 2013 lapses in the field, including some issues scooping infielders' throws, Teufel said: "His best attribute is his footwork. His footwork is tremendous around the bag. He's got tremendous ability of moving his foot from one corner of the bag to the other and making it look smooth and saving some throws that might have been a little bit errant. But I think his moving around and his gait was a little bit slow on balls off the bag. Spring training is a place we need to work on that. Other players have had that in the past and we seem to have been able to fix it as a staff. I think that's what going to happen this spring. I think he's going to be a better defensive player. Two, you have to separate your offense from your defense. I think having a tough year offensively always hurts somebody defensively."
Teufel, by the way, is of the thinking that Duda's mind was clearer at the plate and otherwise when he strictly became a first baseman last season and abandoned the outfield.
"I saw a big confidence boost in him out in the field," Teufel said. "For me, he looked more relaxed at first base. He's been there before. He's done that successfully in the minor leagues. They made him into an outfielder, so to speak, along the way. But his natural position is first base. I think he's more comfortable. That's a place where he thrives. Whether that relates to a big year with the bat, I don't know. I don't know if that makes him comfortable where all of a sudden he has this monster year with the bat. I think there's less worry for him being in the infield rather than the outfield."