NEW YORK -- Ike Davis' father believes the Mets botched handling the trade of the Mets first baseman this winter by being so open about their intent.
"I think that's why the Mets have really screwed up in that situation -- because they've publicly done it so much, it's saying to my son, 'Hey, we don't want you anymore,'" the ex-Yankee Ron Davis said Tuesday afternoon at a Baseball Assistance Team charity event in Manhattan. "So I think they backed themselves into a corner saying, 'We want to trade you, but we want 'X' amount.'
"Now, with Milwaukee getting [Mark] Reynolds and [Lyle] Overbay and this guy, now they're backing themselves into a corner. They're in a situation like, 'Well, heck, we may have to keep him now.'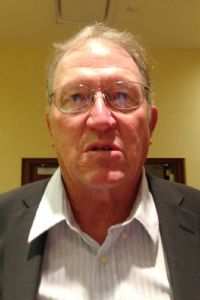 Adam Rubin
Ron Davis
"If you would have done it quietly and said, 'Hey, well people called us, we didn't call them,' then you could have something to say. But when you've gone out publicly and said, 'Hey, we don't want you here anymore' basically, he's learned the game. He's been in the game four years and playing pro ball for six years. So he understands.
"Like his best friend, Justin Turner, they don't even tender him a contract. And so it's like, 'OK,' he learned the business quick."
Ron Davis nonetheless said Ike is handling the public spectacle well.
"Like I told him, I was released three times, I was traded three times and sold once to Japan. So, who cares?" the elder Davis said. "It's part of the game. I told him, 'You're like a piece of hamburger meat, just sitting there at the grocery store. And when you're first put out there in that wrapper, you look real good -- bright and red. And the older you get, you start getting tarnished, a little brownish, and people don't pick you as much.'
"The bottom line is: People ask me who my favorite team was. The last one that paid me. The bottom like is: You've got to look at is as the cup is half-full, not half-empty. Because that means if the Mets don't want you, somebody else does. So that's the key."
Would Ike be OK showing up for Mets spring training if he is not traded before then?
"Like he said, whatever team he goes to, he's going to be really happy," Ron Davis said. "So he's going to try to make whatever team he's with a winner, including the Mets. Hey, if the Mets continue to keep him, you've got to go out and play the game. Like I said before -- my favorite team is the last one I played for. Well, if you think about it, all teams are what? They fly the same airlines. They stay in the same hotels. They get paid the same. The same meal money. The only difference is some teams win a few more than other teams.
"You have to make it work," Ron Davis continued, referring to the Mets. "It's not like saying, 'I'm not going to do something.' You can't say that. The bottom line is: Hey, if he's in spring training with the Mets, he's got to make the team. He's got to go out and play. You can't earn a living sitting on the bench or not playing. So you've got to make it work."
Ron Davis went on to say that it's a false perception to suggest his son had a subpar year in the field.
"The media was just messed up," he said. "When you're hitting .162, and you make an error, it's like, 'Oh, he's crappy.' Now, if you're hitting. 262 or .302, it's, 'Oh, he made an error. Aw, shoot, that was a tough hop.' … It's how you're hitting. You don't find a guy who is the Gold Glove hitting .162. You find the guy who's hitting .362 and doesn't catch very well."
The elder Davis also asserted that his son's struggles have been limited.
"The first year, I think, he hit pretty good," he said. "His second year he's doing good until he broke his ankle. His third year, find me a first baseman that hit 32 [homers] and 90 [RBIs]. How many did it? Find 'em. And then last year, OK, he had a bad year.
"Everybody is thinking he's had like four bad years here. He's had -- what? -- one bad half. And you've got to remember, they didn't let him get a chance to play for a month because he was in Vegas, and then he tore his oblique muscle in September. So that's two months. Like Ike says, 'Some months I've hit seven, eight, nine, 10 home runs in a month. You take those two months and that's 20-some-odd home runs [for the season] if I get those months -- one that I'm hurt and one that I'm in the minor leagues. He got, what, less than 100 games?"
Ron Davis said Ike doesn't necessarily need a change of scenery, although a change of home ballpark would help.
"The ballpark needs a fresh start," Ron Davis said. "You take Fred Lynn. If he would have stayed in Fenway, he probably would have been a Hall of Famer. … And now he went to Anaheim and what happened? They were pop-ups. Outs.
"So the bottom line is: Right field [at Citi Field], the wind coming out of that tunnel, and being so far, that's a bad ballpark for a left-handed hitter. So you take him to Colorado or Baltimore or Milwaukee or Texas, those ballparks are home-run hitters' ballparks. I didn't realize until I got out of the game and until Ike started playing that the ballpark can make you an All-Star or a Hall of Famer."