Before speaking at the Wharton School of Business on Wednesday, Sandy Alderson did a Q&A with Penn's independent student newspaper. Here's how Alderson replied with regards to his thoughts about his 2014 team:
"We're still looking for more players," the GM said. "The offseason develops over time in segments, and right now there are still a lot of players out there. The question with teams is: How much money do they have left and what are their needs?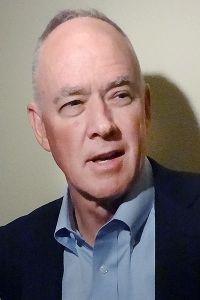 Adam Rubin
Sandy Alderson
"I like our team for a couple of reasons. The last three years, the strategy I have tried to articulate is threefold: acquire talent and develop talent, create more payroll flexibility -- we had a lot of long-term contracts that were just not performing -- and, third, try to win as many games as you can without compromising one and two.
"Now we've turned a corner a little bit, and I'd say that now we want to win as many games as we can while being mindful of one and two, but not letting those control our decision-making with respect to winning and losing.
"So I think we've turned a corner, and that's important. We've spent some money. Putting aside whether we've spent it wisely or not, I think we've spent the fifth-most of any team in Major League Baseball on free agents this offseason. Now the Yankees are at [$480 million]. We are at [$85 million], but we're still the fifth-largest expenditure in the offseason. And we might do something else before spring training starts.
"The other thing is that we have some good young players starting to emerge at the major league level, and that is always exciting to see how they will do. But we've got some highly touted prospects, and a lot of them are coming to spring training, so it will be fun to see what they do."