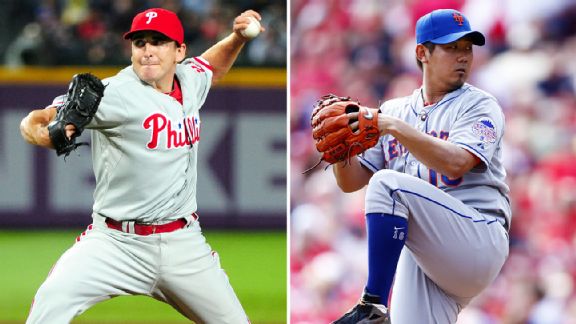 Getty Images
John Lannan and Daisuke Matsuzaka have June "outs" if they are not in the majors by then.John Lannan and Daisuke Matsuzaka each can escape from the Mets if still languishing in the minors come June.
Lannan's representatives negotiated a June 14 opt-out if he remains in the minors and desires free agency at that point, sources told ESPNNewYork.com.
Dice-K, because he has six-plus years of MLB service and re-signed with the Mets as what is known as a XX(B) free agent, automatically receives certain rights: The Mets must inform him five days before Opening Day that he has made the team; otherwise, the Mets must release him, or pay him a $100,000 retention bonus to send him to the minors. Dice-K also automatically gets a June 1 "out" in his contract as part of the CBA if he is not promoted to the majors by then and wants free agency.
Matsuzaka's agent was free to negotiate more favorable terms or other outs, but the CBA stipulates the June 1 out, five days' notice of making the Opening Day roster, and the $100,000 retention bonus are the minimum protections based on signing a minor-league contract with his stature. Matsuzaka's agent did not negotiate additional protections, a source told ESPNNewYork.com.
Each pitcher reportedly receives $1.5 million base salary if he makes the big-league team.
Lannan, Matsuzaka and Jenrry Mejia (who has a minor-league option remaining) are the primary competitors for the fifth-starter's job behind Bartolo Colon, Jonathon Niese, Zack Wheeler and Dillon Gee. Officially, prospects Jacob deGrom and Rafael Montero also will compete for that rotation role. Noah Syndergaard is expected to remain at Triple-A Las Vegas until at least after the Super 2 deadline (a floating date, likely in July) in order to delay his arbitration eligibility.