PORT ST. LUCIE, Fla. -- Zack Wheeler is not settling for simply occupying a spot in the 2014 rotation. He wants to be on the mound at Citi Field on March 31 against the Washington Nationals, likely opposite Stephen Strasburg.
"Last year I was coming in trying to win a spot," Wheeler said Monday. "This year I'm trying to get the Opening Day spot.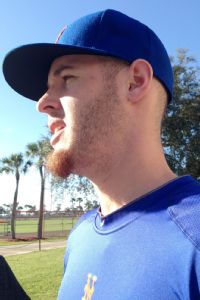 Adam Rubin
Zack Wheeler wants to pitch Opening Day at Citi Field.
"I am a rookie still. And it's nothing on those guys, on the other starters, because anybody in the starting rotation could be the Opening Day starter. But that's just my mindset coming in -- to push myself to try to get the Opening Day spot."
Officially, Wheeler no longer is a rookie. He pitched 100 innings in the majors last season, double the total that would have allowed him to maintain that status for 2014.
As for the Opening Day start, that went to Jonathon Niese last season.
Terry Collins already has suggested Niese is the likeliest choice for this season as well, although that obviously could be revisited if Niese is the lone southpaw in the rotation and the Mets feel the need to separate specific right-handers, such as Bartolo Colon and Wheeler.
Wheeler went 7-5 with a 3.42 ERA in 17 major-league starts last season, beginning with his June 18 debut in Atlanta. He was shut down after a Sept. 17 start, with his innings count between the majors and minors at 168 2/3. That should mean Wheeler should be permitted to throw at least 200 innings this season.
Wheeler said his goal this season is to slow things down somewhat -- to not let his body rush to deliver a pitch and get his mechanics out of whack. He walked five or more batters in four different starts last season.
Wheeler added that reports of him tipping pitches immediately after being promoted were inaccurate.
"There are certain times in the game that your body just kind of takes over," Wheeler said. "You need to learn how to settle yourself down a little bit. It's always happened to me. Slowing myself down will sort of help -- instead of just getting the ball and getting the sign and just pitching, to just sort of step back a second between the pitches and think about the situation."
As for being a semi-veteran now, Wheeler said he will do his part for whichever rookies in camp need assistance. There are no shortage of folks without major-league experience among pitchers, including Noah Syndergaard, Jacob deGrom, Rafael Montero, Jeff Walters, Jack Leathersich, Adam Kolarek and Cory Mazzoni.
"I let it be known to some of the other guys that if they need some help with anything, if they have any questions, go ahead and ask me," Wheeler said.