PORT ST. LUCIE, Fla. -- Lefty relief prospect Jack Leathersich has struck out a gaudy 241 batters in 143 career minor-league innings. But the 2011 fifth-round pick from UMass-Lowell currently is focused on another number: his walk total.
Leathersich has walked 5.0 batters per nine innings during his minor-league career. He issued 29 free passes in 29 innings with Triple-A Las Vegas to close last season.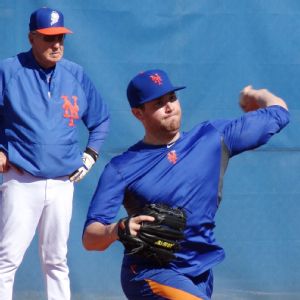 Adam Rubin
Jack Leathersich throws a bullpen session Monday with St. Lucie pitching coach Phil Regan looking on.
That left the Massachusetts native with a clear goal this winter as he worked out at Clemson University, and then briefly with Zack Wheeler at Georgia Tech, before proceeding to Port St. Lucie .
"I really focused this offseason on getting the ball down in the zone and working on my mechanics, just so I can throw more strikes," Leathersich said. "I'm not worried about the strikeouts. I'm worried about getting the walks down."
Leathersich is not yet on the 40-man roster, but he did receive an invite to camp.
Scott Rice and Josh Edgin are the southpaws with major-league experience in camp. But a team official recently told ESPNNewYork.com not to discount a young pitcher making the bullpen, and specifically cited Leathersich and right-hander Jeff Walters, who had 38 saves with Double-A Binghamton in 2013.
Leathersich officially is listed as 5-foot-11. His fastball generally resides in the 92-94 mph range.
He typically strikes out batters with a slider down or a fastball up and away, but figures the K totals will decline as he rises to higher levels. He said he really is a contact rather than strikeout pitcher.
After posting a 1.53 ERA in 24 relief appearances with Binghamton, Leathersich had a 7.76 ERA in 28 appearances with Vegas to close the 2013 season.
"I got out of rhythm a little bit, definitely," Leathersich said. "It left kind of a sour taste in my mouth. It put me into the offseason knowing what I have to work on."
The 2013 walk totals may mean Leathersich needs to head back to Triple-A to begin the season, in order to demonstrate improvement. But his mindset is to make the Opening Day roster.
"That's always the mindset," Leathersich said. "That's the mindset for everybody here. I'm just going to go out there and give it my all and see what happens."