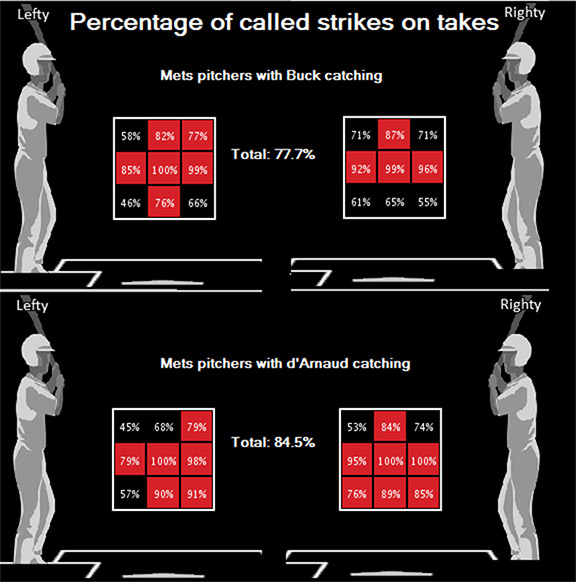 Mark Simon/ESPN Stats & Information
In his brief MLB stint, Travis d'Arnaud rated far better than John Buck at making sure pitches taken in the strike zone were called strikes.PORT ST. LUCIE, Fla. -- Travis d'Arnaud hit only .202 in 99 at-bats during his first season at the major-league level, but he nonetheless proved exceedingly valuable.
One of the sophisticated statistical items the Mets track is how well a catcher sells a strike to the umpire on behalf of his pitcher.
And there really was no contest between d'Arnaud and John Buck, from whom d'Arnaud took the first-string role upon a mid-August promotion to Queens.
According to Mark Simon of ESPN Stats & Information, d'Arnaud got a strike call on 84.5 percent of the pitches that were taken by batters and deemed to actually be in the strike zone. Buck got strike calls on only 77.7 percent of such pitches. The MLB average is 80.7 percent.
#15 C
New York Mets
2013 STATS
GM

31

HR1

RBI5

R4

OBP.286

AVG

.202
D'Arnaud's level is exceedingly hard to produce over a full season. Only five catchers achieved at least an 84.5 percent rate over the full season in 2013: Yadier Molina, Jose Molina, Jonathan Lucroy, Chris Stewart and Buster Posey.
D'Arnaud also is lauded for his ability to get strike calls on pitches below the strike zone, because of his ability to smoothly get under the ball. He got strike calls on 8.4 percent of pitches that were taken by batters and deemed below the strike zone. Buck got a strike call on 7.0 percent. The MLB average was 8.8 percent.
As for his offensive issues, d'Arnaud acknowledged he needs to shorten his swing -- meaning commit to pitches later and have a shorter path to contact with the baseball.
"I worked on shortening my swing up and just keeping it simple," d'Arnaud said about his offseason. "Last year, I feel like every pitch I was thinking something about my swing compared to focusing on the ball. … I've just got to slow the game down. And, fortunately for me, I started feeling more comfortable toward the end and a lot of weight came off my shoulders and I started to slow the game down."
D'Arnaud, who celebrated his 25th birthday Monday, feels like he will benefit behind the plate this season now that he has a year of familiarity with the pitching staff. A year ago, he reported to Port St. Lucie for the first time, after getting traded with Noah Syndergaard from the Toronto Blue Jays in the R.A. Dickey deal.
"I feel like I know how a lot of their mindset is up on the mound, so it makes it real easy for me -- well, a lot easier than last year -- to be able to make adjustments midgame and figure out what they're thinking," d'Arnaud said.
"I just know everybody now a little more. I'm more familiar with everyone's faces and just more comfortable with everyone. It makes it more fun every day showing up knowing I can mess around with someone and they won't get emotional."
D'Arnaud's brother Chase is a middle infielder in the Pittsburgh Pirates organization. Chase played 61 games last season in Triple-A after returning from a thumb ligament tear suffered in spring training during a rundown drill.
The brothers have played against each other before -- in A-ball in the New York-Penn and South Atlantic leagues. But Travis is looking forward to the next meeting, given where it is likely to occur -- potentially during a May 26-28 series between the Mets and Pirates at Citi Field.
The brothers have separate homes a mile from their parents in California and train together during the offseason.
"We spend a lot of time together," d'Arnaud said. "We go to each other's houses, hang out -- to my mom and dad's and have dinner. We go out to dinner as a family. I like the offseason. It's fun."