PORT ST. LUCIE, Fla. -- Sandy Alderson, speaking on WFAN, addressed a handful of topics Tuesday:
• On adding a free-agent reliever at this point, Alderson painted a pessimistic picture.
"The reliever market is pretty well evaporated," he said. "It's gone."
The Mets nonetheless would like to add one more experienced reliever, although it would need to be an "impact" pitcher, according to Alderson.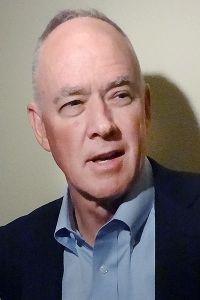 Adam Rubin
Sandy Alderson
The trade route is also an option, although that might come late in spring training, when a player out of options creates crowding elsewhere and the opportunity for a deal.
Alderson said the Mets were "treading a fine line" -- needing to have experience in the bullpen so as not to be "naked," but also not wanting to box out promising young arms.
"We have to look hard at what we have and hope some guys step up," Alderson said.
Alderson suggested lefty prospect Jack Leathersich is a possibility to open the season in the bullpen. Although the GM noted Leathersich is not currently on the 40-man roster, the Mets will have three open spots, making adding Leathersich plausible. The 40-man roster currently is at 38, and Matt Harvey will be shifted to the 60-day DL for the start of the season.
Alderson also did not express an aversion to having a "really good arm" among starter prospects open the season in the bullpen. That presumably means Rafael Montero or Jacob deGrom. The GM all but ruled out considering Noah Syndergaard for that type of role, though.
• Alderson was inconsistent in his answer about whether Ike Davis and Lucas Duda both could be on the Opening Day roster. He initially said both could end up on the team (which presumably would mean Duda serving as a part-time outfielder). Later, Alderson agreed it is "likely" one ends up in the minors if both remain part of the organization.
Asked if he was surprised both first basemen remain with the organization despite attempts at trades this winter, Alderson said: "I thought it was a possibility. The reason I thought it was a possibility is that in many cases with trades, there's a different perception of value. … I don't think we've actually been asking for too much, but as we saw over the course of the winter, there's always another alternative. …
"As it stands right now, we've decided the value to us in hedging our bets on one or the other, or on the possibility of injury, is more valuable than what we think we can get in the marketplace."
• As for Ruben Tejada at shortstop, Alderson again praised Tejada's willingness to go to a fitness camp in Michigan in November and again in January.
"I think given the realistic opportunities at this point, we're happy as of the first day of spring training," Alderson said about the shortstop position. "That obviously could change over time, during the course of spring-training games and what have you. But I'm optimistic we're going to see a little bit different Tejada going into this season."
Alderson did not sound like there was an external candidate available to bring in to challenge Tejada.
"I think you've got to be realistic about that," the GM said. "Look, we continue to talk to clubs about shortstops that may be out there, available in trade. There aren't that many. And the price and what you have to give up is always a consideration. But those conversations have continued.
"It's just hard to predict what will happen over the next week, two weeks, three weeks. But, in the meantime, Ruben demonstrated a real commitment to getting better by working out in the offseason up in Michigan. I'm anxious to see how that translates on the field."
Asked specifically about payroll flexibility, Alderson added: "Could we sign Stephen Drew? Is that the question? I think the answer is yes, under the right circumstances. It's going to have to be on terms that are mutually agreeable. Are we going to sign a free agent between now and the beginning of spring training for $15 million a year? I don't think so."
• On the outfield, Alderson noted Curtis Granderson will not be asked to play center field. Juan Lagares will start the opener of the Grapefruit League season there, but needs to demonstrate an improved on-base percentage. Alderson said the Mets will go with the three best offensive candidates for Opening Day (which may be the vehicle that gets Eric Young Jr. into the lineup with Granderson and Chris Young and gives the Mets their leadoff hitter).