Howard Simmons/NY Daily News Archive via Getty Images
Legendary broadcaster Ralph Kiner died last week at age 91. The Mets are expected to recognize Kiner this season.
PORT ST. LUCIE, Fla.
FIRST PITCH: A Mets official was coy about what precisely will be done. But the insider definitely left the impression the team will do something special to honor Hall of Famer Ralph Kiner, who contributed to Mets telecasts all the way until his death at age 91 last week.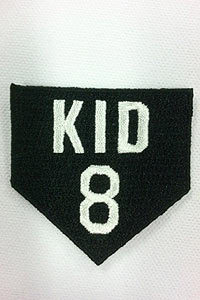 Courtesy of New York Mets
When Gary Carter passed away two years ago, the Mets remembered him with uniform patches.
The Mets created a uniform patch to remember Gary Carter after his battle with cancer tragically ended in 2012.
Among fans on Twitter, there seems to be some sentiment in Kiner's case to name a nook by the foul pole at Citi Field "Kiner's Korner," after his longtime TV segment interviewing players.
Wednesday's news reports:
• WOR plans to announce later this week that the radio broadcast team of Howie Rose and Josh Lewin will remain intact for the 2014 season. The station takes over Mets radio rights this season. Read more in Newsday.
• Sandy Alderson, speaking on WFAN, said the free-agent relief market is barren and suggested a prospect such as left-hander Jack Leathersich could make the Opening Day roster in the bullpen. Alderson also addressed Stephen Drew as well as Ike Davis and Lucas Duda. On Drew, the GM said the free-agent shortstop could be signed "under the right circumstances." At one point, Alderson suggested the loser of the Davis-Duda first-base battle "likely" would be sent to Triple-A if both are still will the organization March 31. Listen to the full audio here. Read more in Newsday.
• After driving from Boston with his interpreter, Daisuke Matsuzaka reported to Mets camp on the same day Masahiro Tanaka had his big press conference at Yankee Stadium. Dice-K, who re-signed on a minor-league deal, is looking to claim the fifth-starter's role. He definitely can identify with what Tanaka is now experiencing, having been in the same situation in 2007. "The way he finished last year, I am glad he is back in camp, because he gives us huge security," Terry Collins told Kevin Kernan in the Post about Dice-K. "This guy can pitch." Read more in the Times and Daily News.
• Check out the Mets' 2014 uniform-number assignments here.
• Eric Young Jr., who wore a shirt reading "SPEED SWAG" for the voluntary workout, arrived at camp Tuesday and said he wants to claim the leadoff spot. He knows he needs to lift his on-base percentage. Read more in the Post and Daily News.
• Jeremy Hefner, who underwent Tommy John surgery last Aug. 28, is unsure whether he will be ready to pitch at all in the majors this season.
• Actor Ty Burrell and host Jon Stewart, both Mets fans, tried to one-up each other with barbs about the team during Monday's "The Daily Show."
• SNY and WPIX announced their spring-training TV schedule.
• Anthony DiComo at MLB.com previews the bullpen. Bobby Parnell, Vic Black and Kyle Farnsworth (who is on a minor-league deal) would appear three names to pencil in, while Jeurys Familia and Gonzalez Germen would appear solid candidates. And Carlos Torres did fine as a long man/spot starter in 2013. From the left side, Scott Rice was durable last season before succumbing to surgery for sports hernias. His sidekick among southpaws may come down to a competition between Josh Edgin and Leathersich.
• Reliever Brandon Lyon, who was released by the Mets last summer, officially has a minor-league deal with the Los Angeles Angels.
• From the bloggers … Faith and Fear tries to decide upon which near-miss Mets team it would retroactively bestow a world championship. … John Delcos at Mets Report believes the Mets should "quit the charade and just say no to Stephen Drew."
BIRTHDAYS: Former Mets pitcher Tim Redding turns 36 today. … Dennis Springer turns 49. … Lenny Randle was born on this date in 1949.
TWEET OF THE DAY:
I'm a #Mets fan who thinks things are looking up. Now if we can get a 1b, SS and #1 starter.... #MetsFansProblems

— MrMom (@Mrmom1231) February 12, 2014
YOU'RE UP: What would be an appropriate tribute by the Mets to remember Ralph Kiner?