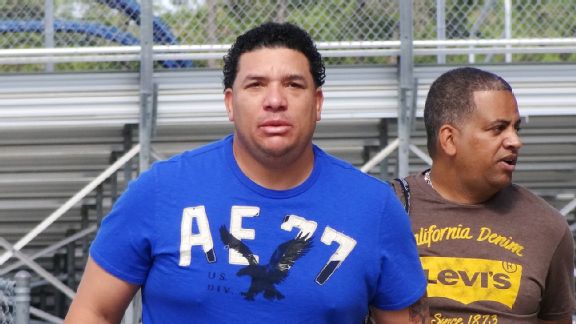 Adam Rubin
Bartolo Colon arrives at Mets camp Saturday.PORT ST. LUCIE, Fla. -- Bartolo Colon arrived at Mets camp Saturday and revealed that the club was the only to offer him a two-year deal. He agreed to the $20 million contract during the winter meetings, in early December.
"I really left it up to my agent. I trusted in him to find a good team that would be a good fit for me," Colon said in Spanish through an interpreter. "... Other teams had one-year offers. The second year really sealed the deal for me with the Mets."
#0 SP
New York Mets
2013 STATS
Colon had an 18-6 record and 2.65 ERA in 190 1/3 innings spanning 30 starts with the Oakland Athletics last season.
"I was a little surprised as well," Colon said about the product, which included the second-best ERA in the American League.
How much longer can the right-hander, who turns 41 on May 24, perform at that level?
"Until my body can't take it any more," Colon said.
Listed at 265 pounds by the Mets, Colon indicated that is not a concern.
"I'm not worried about my weight," he said. "I've always been a big guy and I've always pitched that way. I'm comfortable with that."
Colon has not been in the National League since 2002 with the Montreal Expos. He said about having to again regularly handle the bat and run the bases: "I'm just going to be working on my batting. I think that once I get comfortable with that, I'll be doing just fine in the league."
Colon did not pitch in 2010, after producing a 4.19 ERA in 12 starts the previous year with the Chicago White Sox. But he returned to baseball in 2011, making 29 appearances (26 starts) for the Yankees and compiling a 4.00 ERA.
"I was concerned that I might not return, but I was confident that if I did I could do very well," Colon said. "... It was a great experience with the Yankees. To me, ultimately just being back in New York just means a lot because I've got my family nearby."
That includes his wife and son living in New Jersey.
"It's very cold right now," said Colon, who undoubtedly is preaching to the choir with that comment.