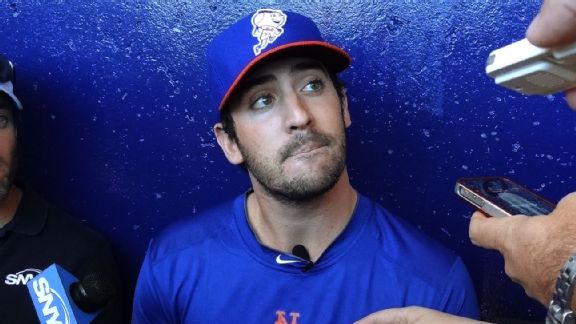 Adam Rubin
Matt Harvey addresses the media Sunday in Port St. Lucie.PORT ST. LUCIE, Fla. -- The realization that Matt Harvey will not be able to contribute with his teammates hit him hard Sunday, on the ace's first day in the Mets' spring training clubhouse.
"It's a little bit difficult of a day considering I'm starting to realize that the year is not going to go the way I wanted it to," said Harvey, who underwent Tommy John surgery Oct. 22. "But you've got to do what you've got to do, and the rehab is going to continue. I'm not sure when I'm going to start throwing, but hopefully in the near future. It's hard seeing all the guys, seeing them put their uniforms on, and realizing that spring training is going to go a little differently this year. Today has definitely been a little bit of a struggle, but hopefully I'll get back out there soon."
Harvey recently had expressed hope of tossing a baseball next Saturday, on the four-month anniversary of his procedure. But team officials have pledged to be cautious with him, given his value and how he remains under the team's control through 2018. Harvey seems to be accepting a slower track, too.
"Whenever they decide I can throw, that's their decision. I can only make sure I'm strong and flexible," Harvey said. "It's definitely tough, but I've come to the realization that I have to listen to them and I can't push too much. There's going to be a time where I can do that, and that'll probably be later down the road. Right now, I've got to take things slow and do what they say and just make sure we have no setbacks."
Harvey said a checkup with team doctors in Port St. Lucie as part of his physical showed "everything was fine" with his recovery. Mets doctors soon will consult with Dr. James Andrews, who performed the procedure, about the process going forward.
Harvey indicated he is fully at peace with having the Tommy John surgery. He also offered no regret about deliberating for a couple of months before deciding to proceed, which obviously now delays his return.
"I needed that time to make the decision and make sure that it was the right one and the one that I wanted to go with," Harvey said. "I'm happy that I did things on my own time. Mentally moving forward I think that was a big thing for me to do."
Harvey has not fully ruled out pitching in 2014, but he sounded resigned to accepting he will miss the entire season.
"I'd always love to pitch and get back out there, but I don't make those decisions," Harvey said. "I can only stay with the doctors and prepare to the best of my ability. If things can work out quicker than normal, then we'll see. But I can't make that call. ... I haven't really talked to them in depth about that. I know they don't want me to push, and I'm definitely not going to force things to happen earlier. If they happen to come quicker, then that's where we're going to go."
While Jeremy Hefner plans to rehab from Tommy John surgery in Port St. Lucie, Harvey -- who makes his home in New York anyway -- hopes to be around the major league team throughout 2014.
"It's a different game when you can stay around it and be there and actually be in the dugout rather than watching on TV," said Harvey, adding that he does not know team officials' preference for his rehab location.
"I have no idea what they're going to do," Harvey added. "I want to stay with the team. I want to do all my stuff up there, because that's where I've been doing it all offseason. If I have that opportunity and I can stay with the team, that's where I'd like to be."
Can the team win without Harvey?
"Looking around the locker room, I think they've brought in some guys that are really impressive," Harvey said. "Looking around, I think they have a good shot. And, like I said, hopefully I can be there in support and watching it live."