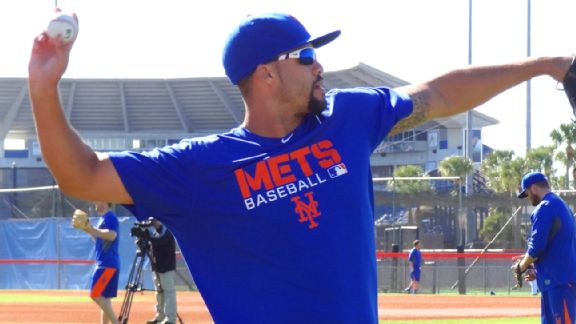 Adam Rubin
Cory Vaughn has an insulin pump in his left pocket while playing.PORT ST. LUCIE, Fla. -- After completing the season at Class A St. Lucie, Mets outfield prospect Cory Vaughn found himself speaking on the steps of the California State Capitol in Sacramento on Nov. 14, 2012.
The message he delivered on the annual World Diabetes Day: Having juvenile diabetes does not need to be an obstacle to achievement.
"There were a bunch of people around. It was packed and I was nervous," said Vaughn, the son of former MLB outfielder Greg and a fourth-round selection in 2010 out of San Diego State, where he played for Tony Gwynn. "I was on the steps and I was talking. I just let it kind of flow out, and it went real well.
"I'm definitely trying to let everyone know, especially the young kids nowadays with Type 1 diabetes, that you can do anything you want to do if you put your mind to it and really take care of yourself and learn to be disciplined with your diabetes. Just because you have this disease doesn't mean the world is over."
Vaughn, who was diagnosed with Type 1 diabetes at age 11, wears an insulin pump in his back, left pocket to regulate his blood sugar, even while playing. He always slides on his right side because a needle with a catheter wrapped around it enters his body by his glute.
Vaughn, 24, hit .267 with 10 homers and 50 RBIs in 295 at-bats last season with Double-A Binghamton. He missed a chunk of last summer after suffering an elbow strain in his right, throwing arm.
Vaughn represented the Mets in the Arizona Fall League. Although he was not added to the 40-man roster during the offseason, he did receive an invite to major-league camp.
Vaughn's Twitter handle -- @sugarfreeCV -- hints at his diabetes.
He is not the only one in the Mets organization, or baseball, dealing with diabetes. Fellow Mets farmhand Rylan Sandoval, an infielder, also is diabetic. So is right-handed pitcher Mikey O'Brien from the Yankees organization.
As for the original symptoms that suggested he needed medical help, Vaughn said: "I was urinating a lot. I was always thirsty. I had no energy. I'd feel fine one second and then five minutes later I was like I was about to curl up in a ball. My eyes would get real dry. It's a hard thing to describe."
Vaughn replaces the catheter every three days, but the insulin pump regulates his blood levels without him needing to inject himself.
"The pump regulates the sugar levels, and it gives me a small dosage every hour," Vaughn said. "And then I put in the machine how many carbs I'm eating and it regulates that.
"I just have to prick my finger to test my blood sugar every time I eat and then in between to be safe. I'm an over-extremist. I probably test like seven times a day."
That includes testing in the dugout during games, which no longer fazes teammates.
"They'll see me," Vaughn said. "I'll have a little fanny pack in there with my medicine supplies."
Vaughn said issues on a baseball field because of improper blood-sugar levels are exceedingly rare, even with wearing the pump in his back pocket.
"For some reason my pump wasn't working and my blood sugar was going through the roof," Vaughn recalled about an isolated incident. "So I wasn't able to play that day. But that's only happened once, because my pump malfunctioned.
"Especially when my blood sugar is high, my vision gets a little blurry, and it's a real lethargic feeling. I don't feel right at all. It was not good."
Vaughn insisted diabetes has not inhibited his career.
"Not really, because I'm not going to let it do that," he said. "Down the road I'm not going to look back and have any regrets, 'Man, if I would have controlled it better, I could have been here.' I don't want to leave it up to that."
For the first few years after being diagnosed, at ages 11 through 13, Vaughn did not yet have an insulin pump and would need to inject himself.
"I was just on manual injections," Vaughn said. "It was a culture shock. At first, I would cry every time. Like a month later I realized, 'I'm going to be in school. My mamma ain't going to be there. Teachers aren't going to know what to do. You've got to do it yourself.' It's just one of those things where you have to suck it up and realize this is how it's going to be."
Vaughn does hope his increasing profile lends itself to speaking more about the subject.
Said Vaughn: "I would definitely like to venture out and talk to a bunch of young kids and stuff who just got the disease, or who have it and having a hard time with it."