PORT ST. LUCIE, Fla. -- Terry Collins did not eliminate Jenrry Mejia from the fifth-starter's competition. But the manager did express an openness to consider Mejia for a bullpen role if Daisuke Matsuzaka, John Lannan or another candidate emerges as the final piece in the rotation.
"One thing we know about him is he can pitch out of the bullpen. We've seen it," Collins said Monday, after the first official pitchers-and-catchers workout.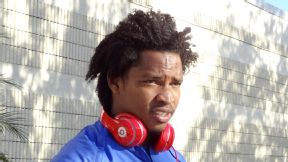 Adam Rubin
Jenrry Mejia will be a bullpen consideration if he doesn't make the rotation.
The starter-versus-reliever debate with Mejia has been going on for four years, since he made the majors in 2010 in the bullpen in Omar Minaya and Jerry Manuel's final year running things. Pitching coach Dan Warthen at one point had been blunt in saying Mejia's max effort in his delivery made him an injury risk as a starter and more apt for bullpen use.
Collins said Monday he does feel like the 2.30 ERA Mejia posted in five major-league starts last season before requiring surgery to remove a bone spur from his right elbow answered the question as to whether Mejia could be a starter.
"There were some people in this organization who felt maybe he couldn't be a starter because there's such maximum effort in his delivery. He proved them wrong, that he can go out there and start and can get you deep into a game," Collins said. "So he's got that to his benefit.
"Now it's, 'What's our best fit?' Is it, 'We've got five good guys. He's the sixth. Do we have a spot in the bullpen for an arm like that with that kind of stuff?'
"That might be a fit for him."
Asked what Mejia can do to win the fifth-starter's role, Collins said: "No. 1, show us that he can stay healthy through camp. And the second is probably pitch better than the other guys."