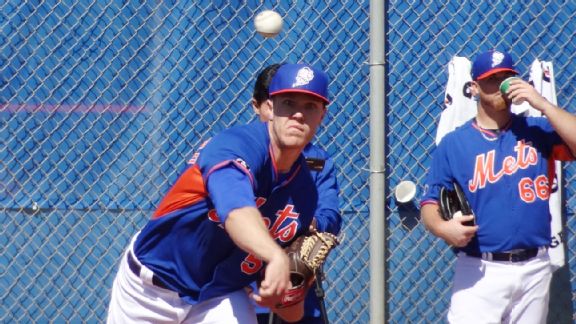 Adam Rubin
Noah Syndergaard throws a 40-pitch bullpen session Monday in Port St. Lucie.PORT ST. LUCIE, Fla. -- Terry Collins did not do much Monday to downplay the expectations heaped on top prospect Noah Syndergaard.
"Let's face it -- great stuff," Collins said after Syndergaard tossed a bullpen session on the first day of official pitchers-and-catchers workouts, with owner Fred Wilpon, the front office and a horde of media watching. "… This kid is throwing 97 mph today with a hook from hell. Really impressive."
After the 6-foot-6 Syndergaard completed the 40-pitch session, Collins approached him and fellow prospect Cory Mazzoni with advice: Don't overthrow in early bullpen sessions to try to impress, which is easier said than done.
"All I wanted to say was, 'Hey, look, just get yourself ready,'" Collins said. "You don't have to impress anybody. There's nobody standing in the batter's box. You're not going to make the team throwing on the side. …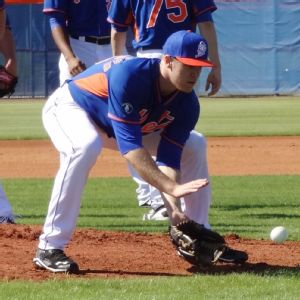 Adam Rubin
Syndergaard works on fielding drills earlier Monday.
"Years ago, when I was managing in other places, there would be two reporters standing around watching guys throwing a bullpen. It wasn't intimidating. Now you have young guys, especially with him coming in here with the headlines that he has, any everybody is standing around, it's human nature to try to impress everybody. And he did.
"He didn't need to, because it's going to count during the games. But he's certainly a very impressive kid and it's exciting to watch.
"When you hear the guys on the team who are big saying, 'My God, look at the size of this guy,' that's what's impressive."
Said Syndergaard about his first official session of spring training: "It's kind of hard to settle down. I tried to take it easy, but I still was going pretty hard at it."
Told of Collins' characterization of his fastball as 97 mph and curveball as "a hook from hell," Syndergaard said: "I was pretty amped up."
Syndergaard said he spent the offseason working to upgrade his changeup. He threw eight or 10, he recalled, in Monday's session.
"I kind of impressed myself a little bit," he said.
Syndergaard said he was fully aware of all of the eyes looking upon him.
"That's a really cool feeling, but I try not to let it get the best of me," Syndergaard said. "I try to tune everything out and work on my craft and work on certain little things.
"I remember last year throwing my first bullpen and being pretty nervous as well. But this year really trumps it all. There really was nothing compared to this, having all the reporters and the brass in town. It was really cool."
Even though Syndergaard is expected to open the season at Triple-A Las Vegas and be promoted after the Super 2 deadline to delay his arbitration eligibility, the prospect said his mindset is to make the Opening Day roster.
"If not, I know there's a bigger picture involved, and when the organization thinks I'm ready is when I'll officially be ready, and I'll look forward to being in New York," Syndergaard said.
Syndergaard, naturally shy, said he is getting more comfortable with the attention.
"I'm getting there," Syndergaard said. "Cameras, I'm getting a little better. I remember my first interview when I got drafted, it was a camera interview at my house. It wasn't even live. It was recorded. And it was pretty bad. I'm definitely not used to it, but I feel like I'm getting a lot better with it."