PORT ST. LUCIE, Fla. -- Ruben Tejada learned plenty during his eight weeks this winter at a training facility fun by a former University of Michigan football strength and conditioning coach who consults for the Mets.
That included the Panama native learning how to drive in the snow for the first time.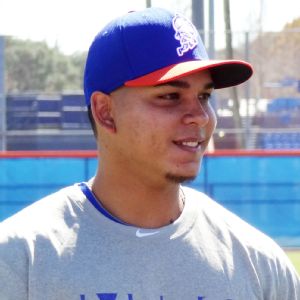 Adam Rubin
Ruben Tejada worked out with other position players Monday in Port St. Lucie.
"It's my profession here. It's my work here. So I have to do that thing," Tejada said about spending two months of his offseason in Plymouth, Mich. "It's my career. I did that for me and to help the team to win. … It's a lot of work there, but it's good. That's what I need to stay ready for 162 games. I feel really good."
Ike Davis, upon spotting Tejada in the clubhouse on Monday, shouted: "Ruben, you look in shape. Look at those arms!"
Tejada said he did not worry about the Mets trying to replace him this offseason, or about the continued free agency of Stephen Drew.
"I don't think anything about that," Tejada said. "I think only about my preparation, to come here and do my job."
Asked particularly about Drew, Tejada added: "I don't pay attention. I pay attention only to me, and keep my head in the game."
Said Terry Collins: "He looks good. You can tell he's really worked hard and trimmed down. I asked him how much faster he was. He said, 'I'll show you.' And I said, 'OK, good.' He'll have the chance.
"He's a great kid. And he's as big a joker as anybody. But I think he's coming into this camp with a different attitude and a different makeup. There's something to prove.
"You know, this kid has never seen [Michigan winter] weather like that before. And to deal with it not only one month, but to go back and do it again when he could be outside in Panama running and fielding groundballs … and he's in Michigan where there's a 100 inches of snow, that tells you something."