PORT ST. LUCIE, Fla. -- Chris Young is receptive to playing anywhere in the outfield, but his clear preference remains center field.
"I understood the situation coming in, but I let the team know center field was where I'm most comfortable," said Young, who signed a one-year, $7.25 million deal in November. "I made that obvious. And I understood that you have some guys out here right now that are very capable of playing center field as well -- I mean, three or four guys. With that being understood, I'll get my work in center field. But at the same time I need to get work in other positions."
Young's best chance of playing center field is if Terry Collins gets his wish and uses Eric Young Jr. as the leadoff hitter. That likely would mean the outfield configuration is EY Jr. in left field, CY in center and Curtis Granderson in right field.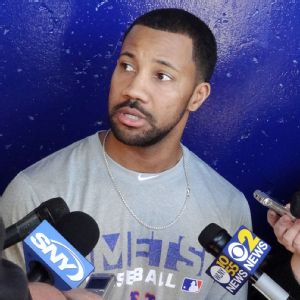 Adam Rubin
Chris Young addresses the media Monday in Port St. Lucie.
If Juan Lagares is the starter, Lagares likely mans center with CY in left field.
"I think we can be one of the best in baseball in the outfield," the ex-Diamondback said. "You're talking about guys with a lot of experience out there, a lot of speed, guys with good arms. Hopefully we can get on the good side of our pitchers, and hopefully they'll love us out there."
If EY Jr. is not the leadoff hitter, Collins mentioned CY and Ruben Tejada as potential alternatives.
"I've led off throughout my entire career," said CY, who has a career .314 on-base percentage in 258 games (252 starts) in the No. 1 slot. "My rookie year was the year that I probably led off the most. And then I hit 32 homers and 65 RBIs. From that point I bounced around. In Arizona I hit leadoff from time to time. In Oakland I hit leadoff a couple of times when Coco [Crisp] was out. I'm comfortable anywhere."
As for his Mets goal, CY said it is being "more consistent."
He hit only .200 with 12 homers and 40 RBIs in 335 at-bats with the A's in 2013.
"In my past, home runs have been able to be there. I've been able to have power," he said. "I haven't had a problem trying to hit the ball out of the ballpark. But it's those in-between at-bats that I've had trouble with at times.
"I worked a lot this offseason with a few different guys to change my hitter's approach to a more base-hit approach, because the power is going to be there. If I can be more consistent and get the average up, I think it changes my whole dynamic. I feel like if I can do that, I can help this team a lot more."