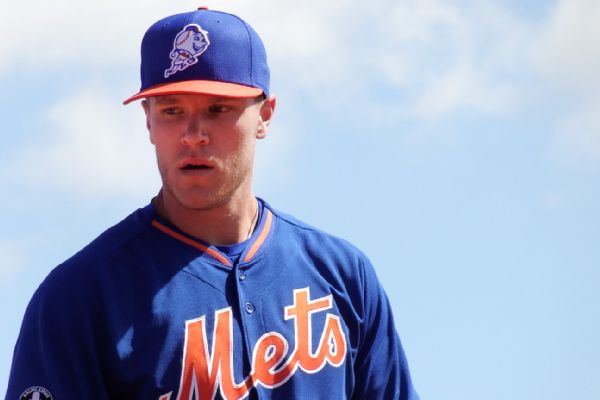 Adam Rubin
Noah Syndergaard concentrates during a bullpen session Wednesday in Port St. Lucie.PORT ST. LUCIE, Fla. -- Paul DePodesta suggested there are too many variables to give a precise number. But, as a rule of thumb, the Mets VP acknowledged Noah Syndergaard will be permitted somewhere in the vicinity of a 30-inning increase over last season's total.
Syndergaard threw 124 2/3 innings in 2013, including in the Eastern League playoffs and with an inning in the Futures Game at Citi Field.
"I would say as a rough estimate, that's fine," DePodesta said. "A lot of it's going to be on how he actually racks up those innings -- how efficient he is in the pitch counts, how much rest he's getting between starts, how much side work we do with him.
"So there are a lot of other things that we factor into it. But, as a general marker, that's roughly fair. I mean, we may go over that. We end up feeling we have to come short of that. But I'd say it's at least a fair estimate."
In order to conserve innings for Syndergaard for Double-A Binghamton's playoffs last season, the top prospect was permitted only 59 pitches in a July 28 start, despite being in the midst of a one-hitter. A week later, he threw 66 pitches and was pulled from a two-hit shutout after five innings. Six days later it was 56 pitches. Then it was 66 pitches. Then Syndergaard was skipped for a start entirely.
This year, those second-half starts should come at the big-league level. So the Mets may be shaving his outings earlier in the season in order to ensure innings are left in the tank late.
Said DePodesta: "We haven't laid it all out yet, but I think we are going to try to manage through the course of the season -- not just with him, but with some other guys this year -- so we don't get to the position in August where we say, 'OK, we want to be saving these guys for playoffs.' So we may do some things in May and in June toward that end."
That means more than capping outings at 60 pitches.
Syndergaard and others could find themselves in the bullpen at Triple-A for a turn or two of the rotation, pitching an inning on their regular day instead of a full start.
"When I was in Los Angeles, one of the things we did was that we took almost all of our starters in the minor leagues and we skipped them once or twice through the course of the summer," DePodesta said. "But during the time they were being skipped, they would pitch out of the bullpen. Now, they may only go an inning. It would be a scheduled inning.
"The purpose behind it was, one, to manage their innings. And, two, was to actually give them experience of what it was like to warm up in the middle of the game and then come in and pitch in the bullpen. Because a lot of guys when they first get to the big leagues, that's what they do. And a lot of them have never done it before. So at least give them that experience, and also give them a blow in the middle of the season and give them a chance to catch their breath and let their arms and their legs recover."
Will DePodesta rule out Syndergaard temporarily in a major league bullpen later this year? That's above his pay grade, DePodesta suggested.
"That's not my call, ultimately," DePodesta said. "There are certain guys that I would say we're more open to it than others. But, again, ultimately that's not my decision."
DePodesta said all of the Mets' upper-level starting prospects would be good bullpen candidates because of their solid command.
Said DePodesta: "They're all above-average strike-throwers in terms of the guys that are here -- [Logan] Verrett, [Cory] Mazzoni, [Rafael] Montero, [Jacob] deGrom, Syndergaard."