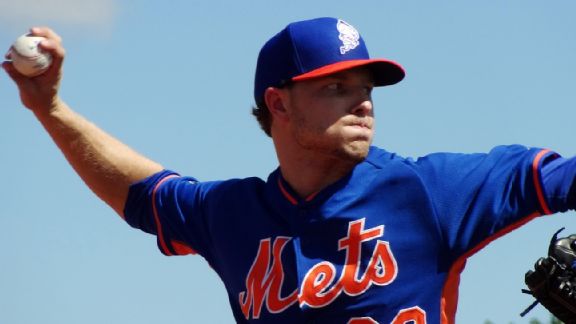 Adam Rubin
The Mets are moving Erik Goeddel from starter to reliever.PORT ST. LUCIE, Fla. -- Right-handed prospect Erik Goeddel will work as a reliever in camp and also this season, whether he is in the majors or minors, Sandy Alderson said.
Alderson said that is partly due to the Mets' upper-level starting pitching depth, and partly because Goeddel's fastball velocity -- generally in the 89-92 mph range as a starter -- should benefit in relief. Goeddel also has a slider (80-83 mph), curveball (73-78 mph) and changeup (77-80 mph).

Goeddel Goeddel, 25, said he welcomed the conversion and predicted a smooth transition since he exclusively relieved in college at UCLA.
"I was pretty good at it, but it was kind of different for me, because growing up I had always been a starter," Goeddel said. "And even then I thought I'd be a starter. We had so much talent on that pitching staff at UCLA that there was just no room for me. So they worked me in the bullpen.
"It's a little different. You give everything you've got from pitch one. But I liked it. The hardest I ever threw was when I was in college. And I'm bigger and stronger now, so hopefully I can get even a little more on it. I'm excited about the opportunity for that because I feel like I can be successful at that."
Goeddel went 9-7 with a 4.37 ERA in 25 starts for Double-A Binghamton last season. He allowed 135 hits and walked 58 while striking out 125 in 134 innings. His walk rate has increased every season, from 2.8 per nine innings in 2011 to 3.6 in 2012 and 3.9 last year.
Goeddel was added to the 40-man roster on Nov. 20.
Paul DePodesta said Cory Mazzoni, another minor-league starter who will get relief consideration this spring training, would work as a starting pitcher assuming he ultimately begins the year in the minors.
Goeddel said he is consulting with pitching coach Dan Warthen to determine whether he should reduce his pitching arsenal as a reliever.
"I'm still trying to figure that out," Goeddel said. "I talked to Dan a couple of days ago, and I might have to choose one of my two breaking balls. I don't know if I'm going to lose one of them or lose the changeup, because my breaking balls have always been better than my changeup.
"The less pitches you have, the easier it is to keep them sharp all the time. And when you're only going through the lineup once, you don't really need all the other stuff."