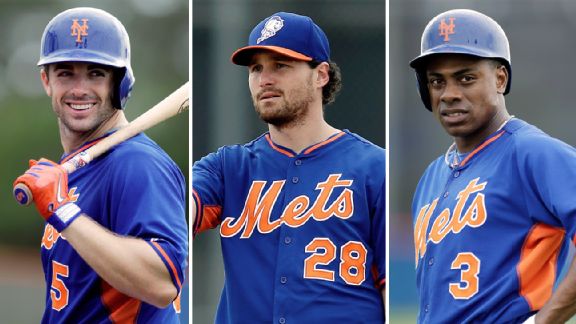 Associated Press
David Wright, Daniel Murphy and Curtis Granderson are unlikely to play during the first week of the Grapefruit League schedule.PORT ST. LUCIE, Fla. -- Do not expect to see Daniel Murphy, David Wright or Curtis Granderson at all during the first week of the Grapefruit League schedule.
Exhibition play opens Friday, with the Mets hosting the Washington Nationals at 1:10 p.m.
Terry Collins said easing those starters into play limits their injury risk and also will give him an opportunity to use Eric Young Jr. at second base and Josh Satin, Zach Lutz and Dustin Lawley at third base.
Granderson mostly will play right field once he enters games, since Chris Young will get a sizable percentage of his time in center field.
On the specific logic with Murphy, Collins said: "Two springs in a row now he's had some rib problems. We're going to slow him down. I told him, 'I'll start playing you maybe game six or seven or eight -- somewhere around there.' … If there's anyone susceptible to overwork, it's Dan Murphy. So I said, 'Just back off.'"
Collins added that Kyle Farnsworth and Jose Valverde will proceed at their own paces because they figure to be important late-inning bullpen pieces. Collins said he overdid it early with veteran LaTroy Hawkins last year and does not want to repeat that mistake.
"We put Hawk in way too early in camp," Collins said. "His shoulder wasn't ready."
A OK: Bobby Parnell (left quadriceps tightness) had no issues with his return to a mound Saturday. Parnell did not participate in fielding drills with other pitchers, but that was mostly playing it safe.
"I said the throwing is more important," Collins said.
In the swing: Collins said Ike Davis' swing looks much-improved -- "flatter" and "not so much trying to swing uphill."
Said Collins: "I'm really impressed with what I've seen. His swing is absolutely completely different than it was last year. He's really quieted down all the action he had at home plate. He knows he needed to do it. The batting practices are outstanding. He's hitting a lot of balls to center field, to left-center field. He says he feels wonderful."
Matt who? Collins said it will be difficult all but ignoring Matt Harvey this spring training.
"It's hard. I'm not going to B.S. anybody. It's hard," Collins said. "First of all, as I told Matt, I've been around this guy since the day he signed. I've known him. I see the frustration on his face. I hear it.
"But the one thing I tell him is there's a reason why he became great fast -- because he's got something in here," the manager continued, motioning toward his heart. "Now he's got to reach down inside and get it out and get himself ready, and not at his pace, but at the pace that's proper to make sure his career is long and healthy."
Busting it: The manager was ecstatic with the intensity of the first full-squad workout Saturday.
"I have never seen the drills done with more enthusiasm, with more energy and without major mistakes than we have in the last six days," Collins said. "It's incredible."