Above, video of Ike Davis swinging in a cage Sunday.
PORT ST. LUCIE, Fla.
FIRST PITCH: Ike Davis wants to remain a Met. He's doing a heckuva job of fueling getting himself traded, though.
Davis told the Post on Sunday that he concealed an oblique injury for most of last season, even from the team.
That's not likely to sit well with Sandy Alderson and Terry Collins, who reportedly were unaware until late in the year, about when the oblique gave out on a sacrifice-fly swing against the Washington Nationals.
The Mets clearly can pull the trigger on a deal for Davis at any point during spring training. It's just a question of how low a threshold they will accept from the Pittsburgh Pirates or Baltimore Orioles or elsewhere.
If Alderson is upset enough, he might lower that threshold further.
Monday's news reports: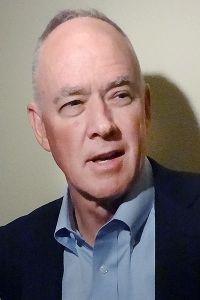 Adam Rubin
Sandy Alderson wants to build a legacy as the man who rebuilt the Mets for long-lasting success.
• It's not a great surprise, but Jeff Wilpon intends to pick up Alderson's team option for 2015, Kristie Ackert writes in the Daily News. "I think you'd have a hard time getting Sandy to say this, so I will kind of maybe say this for him: Everybody is kind of concerned with how they are remembered," David Wright told Ackert. "… He wants to be remembered for taking an organization that was struggling and slowly building it up with the system with some good trades and free-agent signings. I know he wants to be remembered for leaving it in a much better place than he got it."
• Tim Rohan in the Times reviews the mechanical changes Daisuke Matsuzaka made with pitching coach Dan Warthen toward the end of last season that resulted in a 1.37 ERA over Dice-K's final four starts. Writes Rohan:
Warthen had suggested that Matsuzaka lock his right foot snug against the rubber and keep his right leg straight as he raised his left leg during his windup. That way, Matsuzaka could increase torque and really push off the rubber and pitch downhill. His foot had been sliding and his leg had been crooked. Now he felt more balanced. He had better control. He seemed to be throwing harder, too. And his breaking balls had a sharper bite.
• Rafael Montero will start Friday's Grapefruit League opener against the Washington Nationals in Port St. Lucie. John Lannan starts Saturday, followed by Matsuzaka on Sunday. Noah Syndergaard faces the Atlanta Braves at Disney next Monday. Then Jonathon Niese pitches the following day. Read more in the Daily News, Star-Ledger, Record, Journal and MLB.com.
• Frank Viola told Mike Vorkunov in the Star-Ledger about the 23-year-old Montero: "I don't know if you'll ever have a perfect delivery, but that's as close as you're going to see. Everything working together, the ball just explodes from his hands. The thing that's beautiful to watch is I could sit back and close my eyes and know where the ball is going. He's just that good at locating and spotting pitches, and he's only going to get better."
• Columnist John Harper in the Daily News discusses lefty reliever Jack Leathersich, who needs to cut down on his walks to make an impact in the majors. While striking out 47, Leathersich also walked 29 in 29 Triple-A innings last season.
• Wilmer Flores took groundballs at shortstop Sunday, and Collins says he will use Flores there at least on occasion during Grapefruit League play. Read more in the Post and Star-Ledger.
• Flores, from Venezuela, hopes for a safe resolution to the conflict in his country. "Obviously, I'm really worried about it," Flores told Marc Carig in Newsday. "My whole family's there. I wish I was there to support them, to be with them. I just hope that everything just calms down and that there's peace."
• John Rowe in the Record profiles Syndergaard, who is ticketed for Triple-A Las Vegas likely until mid-June at the earliest. "Right now, I'm in camp, hoping to make it, be part of the starting rotation. But I know there's a bigger picture," Syndergaard told Rowe. "When the organization feels I'm ready, then I'm looking forward to being in New York."
• Omar Quintanilla, if he appears in the majors this season with the Mets, would become the 14th player in MLB history to wear the No. 0, Jared Diamond writes in the Journal. The list also includes former Met Rey Ordoñez.
• Anthony DiComo at MLB.com catches up with Daniel Murphy.
• Columnist Kevin Kernan in the Post profiles Jeff Walters, who had 38 saves with Double-A Binghamton last season. Among the nuggets: Walters' father is a jeweler and his mother works at Disney. "I could get the girlfriend some jewelry for free and go to Disney for free," Walters told Kernan. "It was awesome.''
• Collins said he is eager to see catching prospect Kevin Plawecki behind the plate. Read more in Newsday.
• Eric Young Jr. participates in a Q&A in the Star-Ledger.
• The broken bat Roger Clemens tossed in the direction of Mike Piazza during the 2000 World Series sold for $47,800 at auction, Jim Baumbach writes in Newsday.
• From the bloggers … John Delcos at Mets Report discusses Matt Harvey. … Rising Apple discusses what it might take to acquire Seattle's Nick Franklin.
BIRTHDAYS: Hall of Famer Eddie Murray, who played for the Mets in 1992 and '93, turns 58.
TWEET OF THE DAY:
Vote Puma! #FaceOfTheMLBPressBox @NYPost_Mets pic.twitter.com/v0cQ3KL3k4

— Marc Carig (@MarcCarig) February 24, 2014
YOU'RE UP: Should the Mets trade Ike Davis?