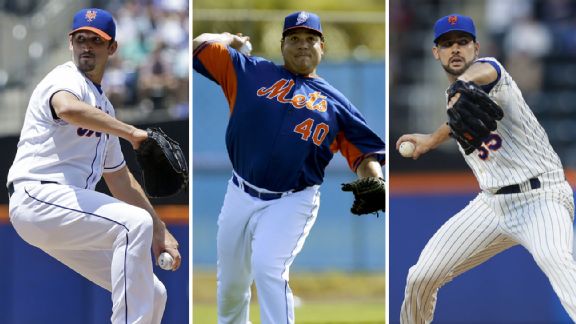 Associated Press
The Mets expect to start Jon Niese on Opening Day, followed by Bartolo Colon and then Dillon Gee.PORT ST. LUCIE, Fla. -- The Mets plan to start Jonathon Niese on Opening Day against the Washington Nationals on March 31 at Citi Field, then have Bartolo Colon start Game 2 of the season and Dillon Gee start Game 3, team insiders tell ESPNNewYork.com.
That would push Zack Wheeler and the fifth starter to the second series of the season, against the Cincinnati Reds, also in Queens.
The sources noted the decision is subject to change if there is an injury or weather complication, but that is the current plan.
Niese would make his second straight Opening Day start. He limited the San Diego Padres to two runs on four hits while striking out four and walking two in 6 2/3 innings last April 1, in an 11-2 Mets win.
Gee's success against the Nats last season ensures he will get a start in the opening series. Gee went 4-2 with a 2.72 ERA against the Nats in 2013. No other major-league pitcher had more than two wins against Washington.
The Nats are expected to start Stephen Strasburg on Opening Day opposite Niese. Jordan Zimmermann and Gio Gonzalez then should handle Game Nos. 2 and 3 in some order.