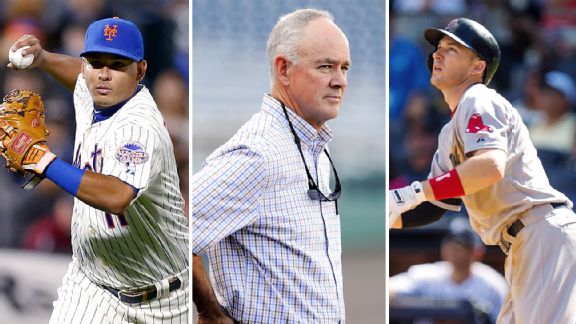 Getty Images
After Ruben Tejada's physique received criticism, Sandy Alderson commented on that topic as well as Stephen Drew.PORT ST. LUCIE, Fla. -- Sandy Alderson downplayed a New York Post report that quoted an anonymous source criticizing Ruben Tejada's fitness. The critical comment came even though the shortstop spent two offseason months at a Plymouth, Mich., fitness and nutrition camp.
"Look, we have probably 30 front office and coaching staff down here. There's going to be a stray comment about players from time to time," Alderson told MLB Network. "That's unfortunately the nature of the media in New York. It's so pervasive that comments like that are going to be gleaned from time to time.
"We were happy with what Ruben did in the offseason. We're hopeful that he'll show significant improvement on the field -- back to the levels he has demonstrated, so it's not an unrealistic hope. But we continue to look at our middle-infield situation.
"There's been a lot of talk about Stephen Drew obviously. My own personal view is at this point, Stephen and his agent are reviewing the situation and perhaps looking at a strategy that prolongs this situation into the regular season or even into June. I have no idea at this point, but I do think in light of Nelson Cruz's contract (one year, $8 million) that they're probably reconsidering where they are. That doesn't mean they're going to do a similar deal. But I do think there will be some reevaluation going on.
"From our standpoint, look, it does appear that we would be a logical landing spot for someone like Stephen Drew. But, at the same time, we have to make our own, independent evaluation and cost-benefit computation and act accordingly, which is what we have done."