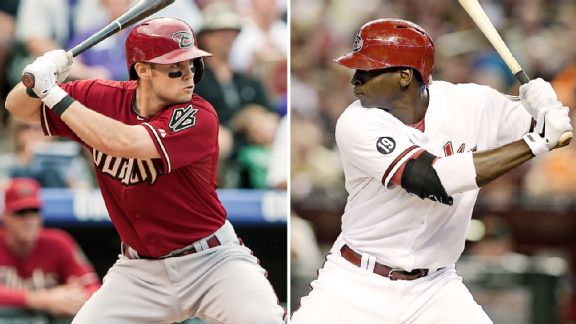 Getty Images
Like the Mariners, the Diamondbacks have two MLB-ready shortstops: Chris Owings and Didi Gregorius.PORT ST. LUCIE, Fla. -- While the trade attention has been on a potential match for the Mets in Seattle middle infielder Nick Franklin, the Arizona Diamondbacks also have an extra shortstop.
Will Arizona trade either Chris Owings or Didi Gregorius during spring training?
"It's been pretty quiet of late," Diamondbacks GM Kevin Towers told Nick Piecoro in the Arizona Republic. "With Stephen Drew still out there right now, I haven't had much trade discussions."
The industry scuttlebutt is that Towers would drive a hard bargain with the Mets because of a less-than-harmonious experience working for Sandy Alderson with the San Diego Padres.
"For us, it would have to be the right deal," Towers told Piecoro about the possibility of trading a shortstop. "Our biggest needs in our system are catching -- if it's the right, top-notch catching prospect, someone we could have right behind Miggy [Miguel Montero]. More of an upper-level guy. Maybe a top, upper-end starter. We have a lot of bullpen depth, infielders. Maybe an outfielder, but probably more catching and Double-A, Triple-A type starter."
Owings, 22, hit .291 with five RBIs in 55 at-bats last season after making his major league debut Sept. 3.
Gregorius, 24, hit .252 with seven homers and 28 RBIs in 357 at-bats in 2013. He was acquired by the D-backs from the Cincinnati Reds on Dec. 11, 2012 in a three-team deal that included the Cleveland Indians sending Shin-Soo Choo to Cincy.