PORT ST. LUCIE, Fla. -- Assuming the Mets do not acquire a starting shortstop that pushes Ruben Tejada to the backup middle-infielder role, Anthony Seratelli may have as good a shot as anyone to claim that backup assignment.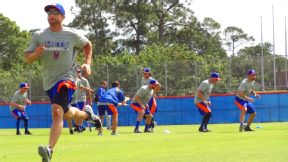 Adam Rubin
Anthony Seratelli could be a 31-year-old rookie this season.
Seratelli, who turned 31 on Thursday, has never appeared in the majors. But the Mets pounced on signing the Seton Hall product to a minor-league contract after Seratelli hit .273 with 11 homers, 41 RBIs, 24 steals and a .395 on-base percentage in 487 plate appearances last season for Omaha, the Triple-A affiliate of the Kansas City Royals.
Seratelli, a utility player, appeared in 84 games in right field, 17 games at third base, 14 games at first base and three games apiece at shortstop and second base last season. Overall in his minor-league career, though, Seratelli has appeared in 157 games at shortstop -- second-most of any position.
His primary competition to back up Tejada at shortstop would appear to be Omar Quintanilla -- with the only other players in camp capable of playing the position being Wilfredo Tovar, Danny Muno and possibly Wilmer Flores.
Terry Collins plans to use Seratelli at shortstop a fair amount during Grapefruit League play.
"I've got to see it," Collins said. "Last year he played mostly the outfield. That's why we have done nothing but had him on the infield. We know he can play the outfield. I want to see whether or not, if he needed to, just how much you could run him out there. We're just going to take a look and get him some playing time there. He's going to play second this week. So we'll look at him at some different spots."