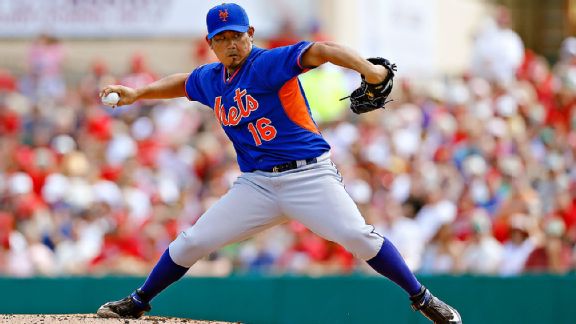 Joel Auerbach/Getty Images
Daisuke Matsuzaka made his 2014 Grapefruit League debut Sunday against the Cardinals.JUPITER, Fla. -- Terry Collins publicly confirmed postgame Sunday what had been suspected: The Mets are predisposed to having a veteran serve as the fifth starter to open the season.
And that's good news for Daisuke Matsuzaka and John Lannan, at the expense of Jenrry Mejia as well as Rafael Montero and Jacob deGrom.
Matsuzaka allowed one run on two hits in two innings as the Mets lost to the St. Louis Cardinals, 7-1, Sunday at Roger Dean Stadium. The performance came a day after Lannan allowed one hit in two scoreless innings against the Miami Marlins.
"It's obvious that when you're Daisuke Matsuzaka, you come with a track record," Collins said. "He'a a quality guy, and he knows how to get himself ready. And once in a while if he has a rough outing in spring training, you have to turn your head a little bit. Those [Japanese] guys throw a lot of pitches to get ready for the season. And certainly, with what he's done in the past, you might have to say he and Lannan would probably be the two leading guys right now."
In reality, Dice-K is probably No. 1, in part based on last year's performance with the Mets. He had a 1.37 ERA over his final four 2013 starts.
How does Matsuzaka balance using spring training to prepare for the season with being in a competition to prove he's worthy?
"Making the Opening Day roster is important, but at the same time it's not my goal for the season," Matsuzaka said through an interpreter after Sunday's performance. "So I have to keep that in mind as I prepare myself.
"Regarding these games, playing the Cardinals, they're in the same league. So I have to also keep that in mind -- that I may be facing them during the season, too. So I can't show them everything that I've got. At the same time, results are important. It's just trying to figure out a good balance with the results and looking into the season."
Matsuzaka -- once the ballyhooed pitcher arriving from Japan, like Masahiro Tanaka is now -- spent much of last season pitching in Triple-A, for the Cleveland Indians affiliate. Asked if going to the minors was off the table for this year, he said: "I'll think about that when that happens -- if that happens."
The Mets must inform Dice-K if he made the team five days before Opening Day. If he does not, they must pay him a $100,000 retention bonus to send him to the minors.
"My goal would be to contribute to the New York Mets for the entire season," added Matsuzaka, who threw an additional 16 pitches in the bullpen after his appearance.
Matsuzaka's outing began with Matt Carpenter doubling, Peter Bourjos grounding out and Matt Holliday doubling to drive in Carpenter. From there, Dice-K retired the final five batters -- including Allen Craig on a grounder to shortstop and Yadier Molina on a pop fly in the infield to end the first inning.
"I gave up a run in the first inning today, but my pitches are very good at this point, except for my slider," Matsuzaka said, referring to a pitch he threw four times. "I think that needs a little bit more work."