JUPITER, Fla. -- Steven Matz was a 15-year-old sophomore at Ward Melville High School in East Setauket on Long Island when Yadier Molina crushed Mets fans with his Game 7 homer in the National League Championship Series on Oct. 19, 2006.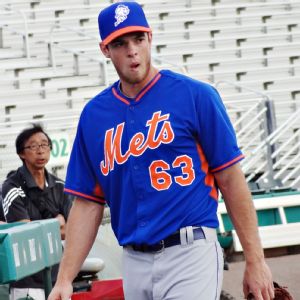 Adam Rubin
Steven Matz tossed a scoreless inning Sunday in his Grapefruit League debut.
Sunday, the first batter Matz happened to face in his first-ever Grapefruit League game happened to be Molina.
The southpaw, who already has impressed scouts this spring training despite only pitching at low-A Savannah in 2013, fell behind Molina with three straight balls. Matz then rallied to strike out the five-time All-Star. Matz followed by surrendering a single to Matt Adams before retiring Mark Ellis and Tony Cruz, the latter via strikeout too, to end his scoreless, one-inning appearance.
"I didn't look on deck until I threw my last warm-up pitch," Matz said. "I was like, 'Holy smokes, that's Yadier Molina.' It was pretty cool to face him. And then once I got him out, I tried to just think of it as any hitter, like I always face."
Matz, a Mets fan growing up, believes he was watching Game 7 back in 2006 at home on Long Island.
"That was when Endy robbed the home run?" he asked.
Matz, the Mets' top pick in 2009 (72nd overall) did not throw his first professional pitch in a game until the 2012 season because of a slow recovery from Tommy John surgery. He spent last season at low-A Savannah, compiling a 5-6 record and 2.62 ERA in 21 starts.
The Mets, concerned a team might grab him in the Rule 5 draft, added Matz to the 40-man roster during the offseason, even though Matz has not even appeared at high-A St. Lucie yet.
One scout in attendance Sunday suggested Matz is ready to bypass the Florida State League entirely and go directly to Double-A Binghamton to open the season -- although there is no indication the Mets are considering that.
The scout had Matz at 94-95 mph Sunday with a high changeup at 85 mph and a rolling curveball at 78-80 mph.
"He has a good arm to work with," the scout said. "He needs to command the strike zone with the fastball down better. I do like him once he does command better."
Another scout thought Matz looked nervous Sunday. He clocked Matz's fastball in his first two spring-training appearances at 94-97 mph with late movement:
"He's not close [to the majors], but he's going to be OK," the second scout said.
Matz suggested it is important for him to remember not to give upper-level hitters too much credit.
"I would say the biggest thing, since I played just in low-A last year, is knowing that I can get these hitters out, and I've just got to attack them," Matz said. "I got a little excited out there. I got to a couple of 3-0 counts."