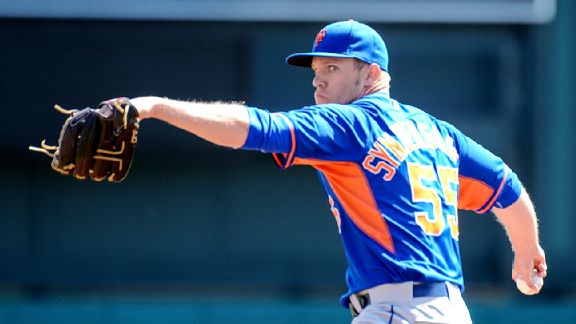 Jonathan Dyer/USA TODAY Sports
Noah Syndergaard tossed two scoreless innings against the Braves with a fastball that touched 98 mph once.LAKE BUENA VISTA, Fla. -- Noah Syndergaard's Grapefruit League debut resembled a Disney script.
Pitching at ESPN Wide World of Sports against the Atlanta Braves, Syndergaard came out firing and mowed down the NL East rival's regulars on Monday.
Syndergaard limited the Braves to one hit in two scoreless innings while striking out two in a 30-pitch effort.
"I walked out there and heard the fans. That was an unbelievable feeling," Syndergaard said. "Normally I'm pretty good at tuning outside influences off. But I definitely heard that one. I just heard a lot of cheering."
Added Syndergaard, referring to a fan-driven nickname: "I heard a lot of 'Thor's, too."
Said Ryan Doumit, the lone Brave to produce a hit against the top prospect: "It was Syndergaard, and then [Jeurys] Familia came in. You're seeing 97, 98 mph the fifth game of spring training. That's pretty impressive that they have arms like that over there. I haven't seen anything like that this spring. I guess over there you can add that guy to the list of young power arms that they have coming up. It's pretty impressive.
"He obviously came in ready to compete. You see a lot of guys that throw 96 and 97 mph during the season, that they're not throwing 96 or 97 right now. It takes a little while to build up to that. I didn't know anything about the kid coming into today, but I sure won't forget his name now."
In the first inning, Syndergaard went to a full count before ramping up his fastball to 98 mph to strike out leadoff hitter Jason Heyward swinging. Syndergaard then retired B.J. Upton on a pop out to first base and Justin Upton on a fly ball to right field in a perfect, 12-pitch frame.
The Heyward strikeout instantly made Syndergaard relax.
"That's a lot of weight coming off my shoulders right there," Syndergaard said.
Syndergaard came out firing again in the second inning. He struck out Evan Gattis on three pitches, with 95, 96 and 96 mph fastballs. The next batter, Doumit, fouled off four pitches in a nine-pitch at-bat before depositing an opposite-field single into left field. But Syndergaard buckled down and retired Tommy La Stella on a foul fly ball to left field and Mark Hamilton on a comebacker to end his scoreless appearance.
As for whizzing three fastballs past Gattis in the second inning, Syndergaard said: "It felt really good because I know he has tremendously quick hands. I know he's a great fastball hitter. It was a really good feeling to throw three right past him.
"I feel like I'm pitching to my strengths out there, and one of them is being able to locate my fastball really well. I'm going to give 'em the fastball and just say, 'Right here. Hit it.' It was very encouraging, because I know that lineup right there is a real big threat. It's a pretty dangerous lineup. It's got a lot of thunder in it."
Syndergaard's fastball was electric. He said his curveball -- dubbed "the hook from hell" by Terry Collins -- was a little flat today, though. He threw an 89 mph changeup, which he'd like to get a little slower.
"I feel like I'm getting there, slowly but surely," Syndergaard said.
Asked if he was MLB-ready now, Syndergaard initially said that is the staff's call.
Pressed, he added: "I think I have a few things to work on -- being more consistent with my pitches, being able told runners a little better, being quicker toward home plate. One of the pitches I still need to work on is my changeup. My curveball can always be sharper. Even my fastball command can always be better as well."