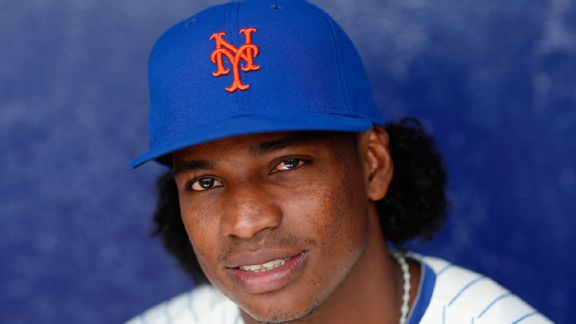 Chris Trotman/Getty Images
If Kyle Farnsworth or Jose Valverde flop, Jenrry Mejia could wind up back in the bullpen.PORT ST. LUCIE, Fla.
FIRST PITCH: The Mets play two Wednesday.
In Port St. Lucie at 1:10 p.m. (SNY), Dillon Gee opposes reigning National League Rookie of the Year Jose Fernandez and the Miami Marlins.
In Viera at 1:05 p.m. (WOR 710 AM), Jenrry Mejia starts against Gio Gonzalez and the Washington Nationals.
Mejia officially is in the fifth-starter's race, although a chance exists that he ends up in the bullpen to open the season.
A team official suggested the discussion would not take place until late March. But assuming Daisuke Matsuzaka (or, less likely, John Lannan) claims the rotation's final spot, a decision would need to be made about whether Mejia goes to Triple-A Las Vegas' rotation or the big-league pen.
If Jose Valverde and Kyle Farnsworth make the team -- no guarantee -- Mejia almost assuredly joins a stacked Triple-A rotation that would include Noah Syndergaard, Rafael Montero, Jacob deGrom and someone from the deserving group of Lannan, Cory Mazzoni and Logan Verrett.
If Valverde and/or Farnsworth flop, the discussion could become interesting.
Assuming everyone is healthy, the bullpen automatically will include Bobby Parnell, Vic Black, Scott Rice and Carlos Torres.
And that leaves three spots. Jeurys Familia, despite some wildness, looks in decent shape right now to be No. 5 in the bullpen. So let's say just Valverde makes the bullpen and not Farnsworth. That leaves one spot. And that is the precise scenario in which Mejia could shift to a bullpen role over, say, a potentially worthy Gonzalez Germen, second lefty Josh Edgin or another candidate.
Stay tuned.
Wednesday's news reports:
• Curtis Granderson homered twice in the opening two innings and Zack Wheeler contributed three scoreless innings as the Mets won their second straight Grapefruit League game, 6-2 against the Houston Astros on Tuesday at Tradition Field.
Read more on Granderson in the Post, Newsday, Star-Ledger, Daily News, Record and MLB.com.
Read more on Wheeler in the Journal, Times, Post, Star-Ledger, Newsday and MLB.com.
Tejada
Duda
Davis • Eric Young Jr. made his 2014 Grapefruit League debut Tuesday after putting a side-muscle issue behind him. Still, injuries linger for the Mets. A day after Lucas Duda was pulled from a game against the Atlanta Braves, his left hamstring felt worse. Meanwhile, Ike Davis (calves) and Ruben Tejada (left hamstring) are out until Friday at the earliest. "To have it happen this early in camp was a little surprising," Terry Collins said, "because we planned on getting them some playing time, and that certainly is not something that has been able to come about." Read more in the Star-Ledger.
• New union chief Tony Clark visited Mets camp Tuesday and told media the MLBPA is "paying attention" to the Mets' un-New York-like payroll. Read more in the Journal, Star-Ledger, Daily News and Newsday.
• Torres is set to make the bullpen, a source tells ESPNNewYork.com.
• Johan Santana, trying to return from a second surgery to the anterior capsule in his left shoulder, has signed a minor-league deal with the Baltimore Orioles. Collins said the Mets are rooting for him. Read more in the Post, Star-Ledger and Daily News.
• Columnist Joel Sherman in the Post asserts that "it is time to stop stockpiling and start winning." Writes Sherman:
Perhaps it is instructive to note that in 1984, when his A's were not contenders, Alderson dealt Henderson to the Yankees for a boatload of prospects, and in 1989 -- when they were a powerhouse -- he reacquired Henderson and won a championship because of that.
"Patience is not a virtue unless you take advantage of it by exercising it well," [Sandy] Alderson said. "Patience is only part of a strategy."
• Collins discusses with columnist Bill Madden in the Daily News what players would need to produce to get to 90 wins:
- Travis d'Arnaud playing 125-130 games and hitting 15 homers.
- Twenty homers and 80 RBIs out of the first-base position, regardless whether it's Davis or Duda.
- A .350 on-base percentage and 145-150 games from Tejada.
- Chris Young reverting to the 32 homers he slugged in 2007 with the Arizona Diamondbacks.
- Twenty-five homers and 90 RBIs from Granderson.
- A .340-.350 OBP from EY Jr.
- Two hundred innings from at least two of his starting pitchers.
- Oh, and 40 or 50 saves from Parnell.
• David Wright tells columnist Bob Klapisch in the Record about signing that eight-year extension with the Mets in December 2012 rather than testing free agency during this past offseason: "I am not a mercenary." Writes Klapisch:
Wright won't take issue with the Wilpons' finances -- he never has, never will. He's either naïve or an optimist -- you choose -- when it comes to the Mets and the arc of his own career. Wright, in fact, won't even dismiss the ludicrous idea of winning 90 games this year, even if GM Sandy Alderson's proclamation is openly mocked by rival executives and scouts.
Wright thinks the rebirth is just around the corner, this summer, even, "if everyone does the things that we're capable of. I'm not saying I have to hit 45 or 50 home runs, or that everyone has to have career years," he said. "But if we go around the room and we get guys to just do their part, then I'd say [90 wins] is attainable."
• Matt Harvey tossed a baseball for the second straight day Tuesday, on flat ground at 60 feet. It marked the first time since surgery Harvey has thrown on consecutive days. Read more in the Record.
• After Steve Phillips works three games on WOR, C.J. Nitkowski will step into that seat for Sunday's Grapefruit League radio broadcast. Tim Byrdak also will get a shot, in the final exhibition tune-ups for the Mets, in Montreal, according to the Daily News.
HOPE Radio will simulcast WOR games on Eastern Long Island, Newsday reports. Neil Best lists the station as available at 107.1 FM on the East End as well as at 94.9, 96.5, 96.9 and 104.5 elsewhere in the region.
• From the bloggers … John Delcos at Mets Report suggests the Mets lost the Santana trade.
BIRTHDAYS: Minor-league slugger Mike Hessman turns 36 today. He appeared in 32 games in 2010 with the Mets.
TWEET OF THE DAY:
Oh just hanging around at the fair with @JdeGrom19 and twitterless Steve! pic.twitter.com/LHEE8Ry0Ff

— Noah Syndergaard (@Noahsyndergaard) March 5, 2014
YOU'RE UP: Would you prefer Jenrry Mejia in the Triple-A rotation or big-league bullpen?