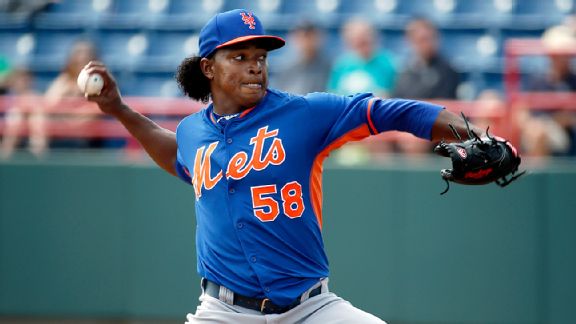 Alex Brandon/Associated Press
Jenrry Mejia allowed one unearned run in two innings Wednesday.VIERA, Fla. -- What was Jenrry Mejia most pleased about during his 2014 Grapefruit League debut?
The discomfort that bugged him all last year and eventually led to Aug. 28 surgery to remove a bone spur from his right elbow was a non-issue during Wednesday's game against the Washington Nationals.
#58 SP
New York Mets
2013 STATS
Mejia limited Washington to one unearned run on one hit and two walks while striking out three in two innings. His own throwing error on Wilson Ramos' squibber back to him in the bottom of the second ultimately resulted in Mike Fontenot's sac fly for the run.
"That's the most important thing -- I feel better, I feel good right now," Mejia said. "Everything is fine."
The odds are Daisuke Matsuzaka claims the fifth spot in the rotation, with John Lannan the primary alternative. But Mejia officially is in contention.
Mejia's best argument: In five starts at the big-league level last season before the elbow discomfort got to the point where he could not continue, Mejia went 1-2 with a 2.30 ERA. He struck out 27 and walked only four in 27 1/3 innings.
Mejia said he gutted through those five MLB starts even though doctors already had located the bone spur and recommended it be removed because he wanted to prove himself.
"That's hard to do," Mejia said. "... When I went to the doctor and I was asking him what's happening with my arm, he said, 'You've got bone chips over there.' I said, 'I can pitch with that.' He said, 'All right. You can pitch. But when you feel bad, you come and we'll make surgery.' I said, 'All right, I'm going to pitch. I'm going to try.' I wanted to do it because I wanted them to think about me next year."
Mejia broke into the majors in 2010 in relief when Omar Minaya and Jerry Manuel were trying to save their jobs and needed the best available arms at the big-league level -- even at the expense of development.
Mejia has made no secret he prefers to be a starter. Asked if he would amenable to being a reliever in the majors, which is possible if Jose Valverde or Kyle Farnsworth fail to make the club, Mejia said: "Everybody knows I want to be a starter. I want to take that fifth spot bad. If they want to use me in the bullpen, I've got to be there. I've got to work hard, because I'm always out there for my teammates."
Tuesday's outing, Mejia said, was his first time pain-free in a game since the 2012 season.
After arriving late at spring training last year because of a visa issue beyond his control and then getting flagged for a thyroid issue during his physical, Mejia said his elbow began to bark during a March 11 Grapefruit League game against the Detroit Tigers. That became his final spring-training appearance. He eventually reached the majors during the summer, but the discomfort never subsided and he ultimately underwent surgery.
"I'm coming back like a starter, because that's what I want to be," Mejia said Wednesday. "I can be there. I want to work hard to be there.
"Now I don't feel any pain. Today I didn't feel nothing."