PORT ST. LUCIE, Fla. -- Terry Collins looks at his bench and knows it needs a little more thump. So the manager suggested Wednesday he would like to give Wilmer Flores consideration for the backup middle-infielder role, provided a starter is not still acquired that pushes Ruben Tejada into that reserve role.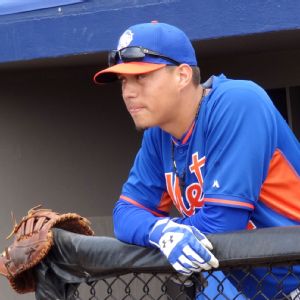 Adam Rubin
Wilmer Flores started at second base Wednesday against the Nats, not at shortstop.
The Mets' bench likely is to include Anthony Recker (backup catcher), Josh Satin (first-base platoon man), Lucas Duda (provided Ike Davis is not traded) and the non-starter among Eric Young Jr. and Juan Lagares.
That leaves one spot for a backup shortstop.
And the hope is that the Mets can find someone passable enough on defense who can contribute off the bench with his bat.
Could it be Flores?
Well, so far the Mets have only given Flores a couple of games mopping up the final couple of innings at shotstop. But team officials have promised to give him a legitimate look.
The more likely scenario still probably has Flores opening as the Las Vegas second baseman. In that scenario, and given status quo otherwise with the roster, Anthony Seratelli may be the favorite over Omar Quintanilla, who is not exactly an offensive threat.
Seratelli, of course, would be a 31-year-old rookie. But he is a switch-hitter. And he did hit .273 with 11 homers, 41 RBIs and 24 steals last season at Triple-A Omaha. He also had a .395 on-base percentage, which probably has this front office drooling.
Maybe not to the extent of Flores, but Seratelli also must prove he has the range to handle shortstop -- at least at some modest level. He has 157 career minor-league games at shortstop, but last year primarily was used in the outfield.