PORT ST. LUCIE, Fla. -- Jonathon Niese sounded giddy after tossing two innings in Thursday's modified intrasquad game.
"I felt great," Niese said. "It's a great feeling to go out there and not feel any pain in your shoulder. It was a great step forward to go out on the mound and feel very close to 100 percent.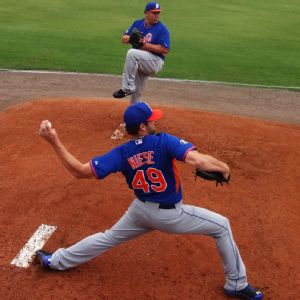 Adam Rubin
Jon Niese and Bartolo Colon warm up before facing Mets batters in Thursday's three-inning "game" at Tradition Field.
"I've felt good all week, but the first time off a mound in a game situation, there's always that concern. I'm glad that thought is out of my head now and I'm able to go out there without any pain."
Niese, who missed two months of last season with a rotator-cuff tear, had been dispatched to New York on Feb. 26 for an MRI of the shoulder after feeling pinching and weakness. Doctors determined the rotator cuff was sound, and prescribed rubber band and dumbbell exercises to strengthen weak muscles in the scapula area behind the shoulder.
"Only a couple of days of the rehab and I was able to get that strength back and the pain went away," Niese said.
Niese believes there is plenty of time to get ready for the Opening Day start against the Washington Nationals on March 31, which Terry Collins has indicated should go to the southpaw.
Niese threw 35 pitches Thursday in a controlled game, while facing batters David Wright, Daniel Murphy, Ruben Tejada and Ike Davis. In the first inning, Niese surrendered four straight hits and Dan Warthen called the frame without the southpaw recording an out. He topped out at 89 mph. Niese retired all four batters he faced upon returning to the mound, including striking out Tejada and Davis.
"It's a big step, because along with that I long-tossed, threw a bullpen before," Niese said. "In reality I threw a lot more pitches."
Niese expects to now get in an every-five-days pitching routine, which means his first Grapefruit League came could be Tuesday against the St. Louis Cardinals in Jupiter.
"I was looking at the calendar, and there's definitely plenty of time to get my pitch count up there," Niese said. "... I think the more I throw, the more strength I'll get in my shoulder and the more easy it will come out and the more accuracy I'll have. I'll be able to hit my spots more. But today was like a 'feel' day -- see how I felt. I cut loose on a few of them. It felt excellent."
On pitching Opening Day for a second straight season, Niese said: "That's what I'm getting ready for. That would be great. It would be a great honor, like last year. That's what I'm working for."