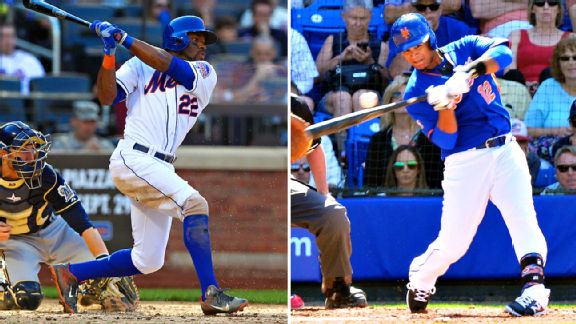 USA TODAY Sports
The Mets soon may need to choose whether Eric Young Jr. or Juan Lagares should be the regular starter in the outfield.PORT ST. LUCIE, Fla. -- Juan Lagares in center field, Chris Young leading off, and Eric Young Jr. on the bench?
Or Eric Young Jr. leading off, Chris Young in center field and Lagares on the bench?
Or maybe both, depending on the day's matchup?
That's the question the Mets will need to answer when Terry Collins and Mets brass begin seriously debating the topic in the next three weeks.
Collins has publicly advocated EY Jr. as his leadoff man, despite the ex-Rockie posting a .310 on-base percentage last season and the defensive repercussions of having Lagares on the bench.
"Time will tell," Collins said Sunday, after Lagares produced an outfield assist in an 8-2 win against the Atlanta Braves at Tradition Field.
The bottom line, though: No matter the verdict, Lagares is highly likely to find himself on the Opening Day roster rather than Triple-A Las Vegas, according to a team insider.
Lagares, whose defensive caliber is a known commodity, also is hitting .353 average so far in Grapefruit League play.
"I just try to go as hard as I can to every ball, and try to make a good throw," Lagares explained about his approach in the outfield, which led to a franchise-rookie-record 15 outfield assists last season.
Meanwhile, Collins all but acknowledged there are only two considerations "right now" for the leadoff spot: EY Jr. or Chris Young.
Why CY as the alternative to EY Jr.?
"He's done it," Collins said, alluding to the former D-back's 252 career starts as a leadoff hitter, which primarily came in 2007 and 2008.