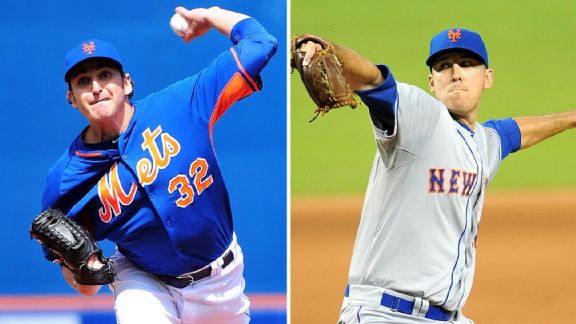 USA TODAY Sports
John Lannan is the only viable lefty relief complement to Scott Rice currently in camp.PORT ST. LUCIE, Fla. -- John Lannan remains Wednesday's starter against the St. Louis Cardinals. And the southpaw will continue to ramp up his innings workload as he officially remains in the fifth-starter competition.
But on a day the Mets dispatched Josh Edgin, Jack Leathersich and Adam Kolarek to minor-league camp -- leaving Scott Rice as the only remaining lefty reliever -- Terry Collins acknowledged Lannan will get a look out of the bullpen soon, too.
"We're going to take a good, hard look at John as we get into camp," Collins said. "We want to lengthen him out as a starter, but he's going to get some looks out of the bullpen here."
The Mets have four virtual locks for the bullpen, barring a health issue: Bobby Parnell, Vic Black, Carlos Torres and Rice. Jeurys Familia looks like a strong candidate for a fifth spot.
If that's the case, then Jose Valverde and Kyle Farnsworth could round out a pen with only one lefty.
But if Valverde or Farnsworth does not merit the Opening Day roster, then either Lannan as a lefty reliever or -- more likely -- another righty such as Jenrry Mejia of Gonzalez Germen might come into play for a spot.
The Mets also conceivably could try to pick up a quality second lefty via trade or waivers in the next few weeks, although that may be a long shot, since it is not like those are readily available.
The Mets recently signed journeyman Dana Eveland and sent him directly to minor-league camp.
Is Collins concerned about frying Rice if he is the only left-hander in the bullpen, which appears a distinct possibility?
"Not yet," the manager deadpanned. "He pitched in 73 last year. I'll worry about it after we get to 73 how he's going to feel."
Lannan has been a regular starter throughout his major- and minor-league career.
His career MLB numbers against lefty batters do not support the enthusiasm for him in that role. Lefty batters have a career .267 average against him, with a homer every 31.6 at-bats. Righty batters have a career .276 average against him, with a homer every 43.6 at-bats.
"We're trying to touch all our bases," Collins acknowledged.
As for the early banishment of Edgin to the minor-league side, Collins said he needs to see the Edgin who had modest success during his maiden season in 2012, when his fastball averaged 93.3 mph. Edgin's velocity readings this spring training have been 87-88 mph, with a lower arm angle too, leading scouts to wonder aloud if he might even be hurt.
"The big thing is: He came to the major leagues and dominated left-handed hitters," Collins said. "And his velocity is down a little bit. And we had some concerns about it. So we thought it would be best if he went down there and got his confidence back a little bit.
"He's upset about it. He should be. I don't blame him. But, as I told him, 'That guy that came here two years ago, that's the guy I want to see back here' -- that aggressive mentality, 'here it is, do something with it.'"