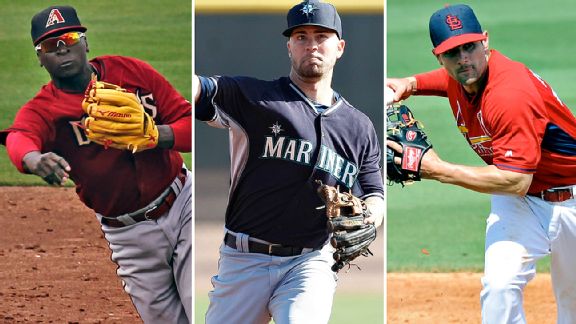 USA TODAY Sports
Didi Gregorius and Nick Franklin are shortstop options for the Mets, but not Pete Kozma.PORT ST. LUCIE, Fla.
FIRST PITCH: The Mets break camp in exactly one week to fly to Montreal for a pair of final exhibition games. And Terry Collins says it is now time to get down to serious business.
On Thursday at 1:10 p.m. at Tradition Field, Zack Wheeler is scheduled to oppose Ervin Santana (SNY).
Santana will be making his Braves debut after signing a one-year, $14.1 million deal. Atlanta needed the pitching help after losing Kris Medlen and Brandon Beachy. (See the Braves full travel list here.)
For the Mets, Collins has pledged that either Lucas Duda (hamstring) or Ike Davis (calf) will start at first base against the Braves. Both have been getting at-bats in minor-league games, but not running after making contact. It has been 17 days since Duda and 18 days since Davis last appeared in a Grapefruit League game. A healthy bit of skepticism exists among scouts that Davis will be ready for the season.
Jonathon Niese is expected to resume throwing, at least on flat ground, after receiving a cortisone shot in New York on Monday to address elbow inflammation.
Thursday's news reports:
• The Washington Nationals announced Stephen Strasburg will start on Opening Day, on March 31 against the Mets at Citi Field. Gio Gonzalez will start Game 2 and Jordan Zimmermann will start Game 3.
Didi Gregorius, not Chris Owings, is the shortstop the Arizona Diamondbacks are willing to trade, sources tell ESPNNewYork.com. One industry source unaffiliated with the Mets or D-backs believes a potential trade between the teams "has legs." Nick Franklin of the Seattle Mariners is a potential alternative acquisition. The St. Louis Cardinals are making Pete Kozma available, but the Mets are unlikely to be interested because the offensively challenged Kozma is not a clear upgrade over Ruben Tejada.
Three Arizona scouts, including special assistant Todd Greene, watched a Mets intrasquad game Tuesday in which Noah Syndergaard, Jacob deGrom, Logan Verrett and Jeff Walters pitched. With the loss of planned Opening Day starter Patrick Corbin, the D-backs are looking for MLB-ready pitching in exchange for Gregorius.
ESPN.com's Matt Meyers, meanwhile, makes the case for Wilmer Flores at shortstop. Meyers notes the Mets' starting pitchers are fly-ball oriented anyway, and reminds readers stocky Kevin Mitchell started at shortstop on days Sid Fernandez pitched in 1986.
Flores is expected to see ample time at shortstop with Triple-A Las Vegas in April, with the Mets open to having him oust Tejada as the shortstop early in the season if Flores can demonstrate competency there.
Read more on potential shortstop trades from Jon Heyman at CBSSports.com. Read more on Flores in the Star-Ledger.
• Paul DePodesta told ESPNNewYork.com plenty of options are on the table for conserving Syndergaard's innings count with Las Vegas, including five-inning/60-pitch appearances, sporadic one-inning relief appearances rather than full starts, and a six-man rotation.
• DePodesta did a podcast with "Who Are You" sports about his life and baseball. Listen here.
• Triple-A pitching coach Frank Viola has found solace at the ballpark after the passing of his father and mother in a four-week span during spring training, writes Anthony Rieber in Newsday. Read more on Viola in the Record.
• The Mets' bullpen is projected to include Bobby Parnell, Jose Valverde, Vic Black, Jeurys Familia, Carlos Torres, Scott Rice and Lannan, despite Black's struggles. Kyle Farnsworth has a contract "out" Sunday, so there should be a resolution soon on his expected failure to make the Opening Day roster. Read a bullpen review in the Post.
• Read more on Wheeler in the Post.
• Águilas Cibaeñas has hired Andy Barkett as manager of its Dominican winter-league team. Wally Backman recently had interviewed for that position in Port St. Lucie. Read more (in Spanish) in El Caribe.
• Mets fan Daniel Franklin (@Stan_Kankels), a 22-year-old from Chappaqua who now lives in Manhattan, has been selected to participate in MLB's "Fan Cave" this season. He is a sound-board operator at WABC 770 AM in NYC. Read more at MLB.com.
• Jared Diamond in the Journal notes the Mets still have question marks with Tejada, at first base and with Jenrry Mejia's role. Marc Carig in Newsday focuses on the uncertainty with Tejada and first base.
• From the bloggers … John Delcos at Mets Report suggests the Mets are playing unreasonable hardball with Matt Harvey. … Blogging Mets predicts the club will trade Niese and Dillon Gee.
BIRTHDAYS: Manny Alexander was born on this date in 1971.
TWEET OF THE DAY:
Should the #Mets just plan on going with Murphy at first base at this point? This is a mess

— Mitch Petanick (@FirstPitchMitch) March 19, 2014
YOU'RE UP: Do you believe Lucas Duda, Ike Davis or neither will be in the Mets' Grapefruit League lineup on Thursday against the Braves?