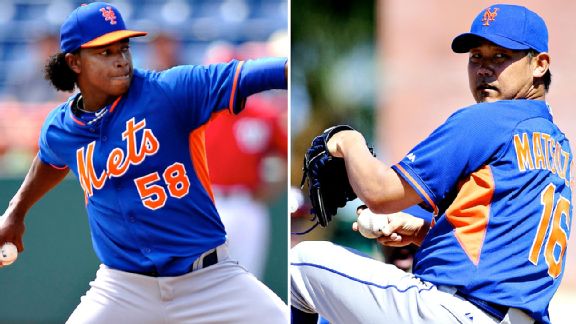 USA TODAY Sports
Jenrry Mejia's strong showing Sunday continued to put pressure on presumptive fifth-starter Daisuke Matsuzaka.PORT ST. LUCIE, Fla. -- Jenrry Mejia may end up on the short end of the fifth starter's race, but he clearly gave Mets officials something to think about Sunday.
Mejia limited the Washington Nationals to one run on two hits and a walk while striking out six in five stellar innings in a 3-1 split-squad win at Tradition Field.
There has been vigorous debate within the organization about whether Mejia or Daisuke Matsuzaka should earn the final slot in the rotation. And Mejia has vocal supporters in internal meetings. Still, Matsuzaka consistently has been projected by people in the know to claim the final spot.
Will Mejia's latest performance flip the decision? Probably not, but Matsuzaka does face the St. Louis Cardinals on Monday, and it will be important for the Japanese right-hander to reestablish himself as the rightful choice -- or at least not bomb and muddy the decision.
"The only thing I can do is go out there and do my job," Mejia said.
There should be a verdict very soon.
Because of Matsuzaka's veteran status, the Mets must inform him by Tuesday at noon whether he has made the Opening Day roster. Otherwise, Matsuzaka would need to be paid $100,000 to go to the minors.
That commitment, in essence, will confirm or disqualify Matsuzaka as the fifth starter.
Of course, if Jonathon Niese has a setback and ends up not being ready to be activated from the disabled list on April 6, Matsuzaka and Mejia could end up in the rotation. Mejia is scheduled to start Friday in Montreal against the Toronto Blue Jays, so the Mets are preserving that option.
"We're really not 100 percent sure when he's going to come back," Terry Collins said about Niese. "So the fact that we've got two guys that are going to be lengthened out to possibly fill -- if not one -- maybe two spots, we're lucky."
This much is clear: Mejia will NOT be a reliever to open the season. According to a source, Mejia told the organization he would prefer to be a starter at Triple-A Las Vegas over a reliever in the majors. That's how much he was stung by being used in relief in 2010. The erratic usage as Omar Minaya and Jerry Manuel tried to save their jobs arguably contributed to Mejia requiring Tommy John surgery the following season.
The bullpen is pretty much set anyway. It should include Bobby Parnell, Jose Valverde, Vic Black, Carlos Torres, Jeurys Familia, Scott Rice and John Lannan.
Sandy Alderson and Collins acknowledged there are factors beyond Mejia's control in deciding the winner of his competition with Matsuzaka.
Because of a bone spur that ultimately required elbow surgery, Mejia logged only 52 innings last season between the majors and minors. If the Mets were to put him in the major-league rotation to start the year, he almost certainly would hit an innings limit with plenty of season left.
"It's an issue we have to take into account," Alderson said. "I don't think it's determinative, but it's certainly an issue that we have to keep in the back of our minds."
Then there is a potential service time issue with Mejia. He currently is at 1 year, 140 days of major league service. By starting him in the minors and delaying a promotion by only a month into the season, the Mets likely can avoid Mejia being a "Super 2."
Avoiding Mejia becoming eligible for arbitration early could mean the difference between Mejia making close to the major-league minimum (roughly $500,000) in 2015 or having a salary of, say, $3 million next year.
On pure pitching merit in spring training, Mejia probably deserves the nod over Matsuzaka.
Aside from a March 16 start in Las Vegas against the Chicago Cubs in which Mejia allowed four runs (three earned) in 2 1/3 innings, he has been phenomenal. His performance Sunday sliced his spring-training ERA to 2.89, and that excludes two perfect innings in a "B" game. Mejia was sensational in five starts last season, too, while dealing with a barking elbow. He had a 2.30 ERA and struck out 27 and walked four in 27 1/3 innings.
Matsuzaka is living off his final four starts of last season, when he posted a 1.37 ERA and .146 opponent batting average. He enters Monday's start against the Cards with a 4.97 Grapefruit League ERA.
Mejia did require a visit from the trainer during his fifth and final inning Sunday, which turned out to deal with a recurring bunion issue on the big toe. And injuries have been a big impediment in his career.
"I felt it a lot," Mejia said about the bunion. "I've always had it. Somebody told me El Duque Hernandez always had it, too."