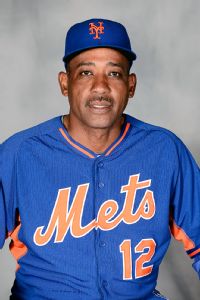 Courtesy of Binghamton Mets
Luis Natera
PORT ST. LUCIE, Fla. -- Luis Natera has been named assistant hitting coach of the Mets. That is a newly created position, which follows the trend across the majors.
Natera, 48, has served as Double-A Binghamton's hitting coach for seven seasons.
He previously spent six seasons as a Class A hitting coach with the Mets, and also is a former coordinator of the organization's academy in the Dominican Republic.
He spent five years as a shortstop in the organization, all at the Class A level.
"In the big leagues today, every ballpark but one has indoor batting cages that are used extensively during the game," Terry Collins said. "The hitting coach is on the bench during the game. So with all that action going on in there, I thought it was important to have someone who can actually perhaps get somebody better prepared to come into a game to hit. There's guys that even during the game will have a bad at-bat and the next inning will come in and go in the cage and take some swings. We need somebody in there to help them."
Collins added that Natera's working relationship with players such as Juan Lagares should particularly help.
In explaining the bypassing of Triple-A hitting coach George Greer, Collins said: "We really like the job that George has done in Vegas when we send guys down. So Luis was the next guy. He's done a great job with Juan. He did a great job with [Cesar] Puello last year. So we're hoping maybe he can get Juan going. Not that Dave [Hudgens] can't, but Luis has had an impact with him."