PORT ST. LUCIE, Fla. -- Matt Harvey will get his wish ... for the most part.
Harvey tentatively has a plan set up with Mets officials that will allow him to rehab in New York during the season. He then would head to Port St. Lucie to face minor-league competition when he is ready to seriously gear up for games, a source confirmed to ESPNNewYork.com.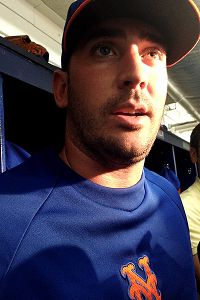 Adam Rubin
Matt Harvey will rehab in New York.
Harvey could be on a mound for the first time since Tommy John surgery in June.
He is currently throwing on flat ground at 75 feet.
In reality, the Mets could not prevent Harvey from rehabbing in New York. The collective bargaining agreement specifies that the club can only require Harvey to rehab at the team's spring-training complex for a maximum of 20 days without his written consent.
Harvey wants to accompany the Mets on the road during the season as well, but that apparently will not be part of the agreement.
"After talking with my agent and the Players' Association and going over the CBA rules, as a player you have rights," Harvey recently said. "I want to do what's best for the organization and best for the rehab process. For me, I've made it clear where I stand.
"I think everybody knows I want to be with the team and be with the guys. New York is my home. I love being there. I love showing up to the ballpark every day. If I have that opportunity, then that's where I'd like to be."
The Mets declined comment, except to say through a spokesman: "We are not ready to make any announcement."
Manager Terry Collins did say about New York: "I hope here's there. He's a great teammate. ... To be honest, until he really starts to get on the mound and things, I'm not sure it matters. We had some protocols here in the past. I have no idea what the discussion has been. It's not for me to answer right now."