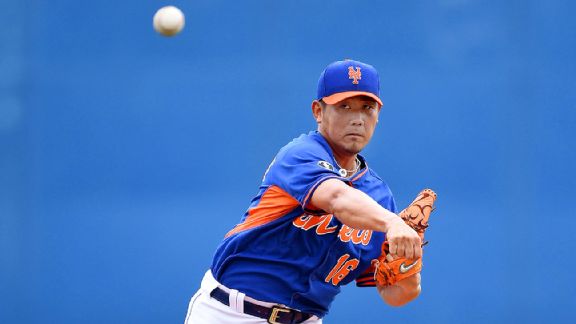 Brad Barr/USA TODAY Sports
Daisuke Matsuzaka blanked the Cardinals through six innings Monday.PORT ST. LUCIE, Fla. -- If there was any uncertainty about the final spot in the rotation, Daisuke Matsuzaka seemed to clear it up Monday.
A day after Jenrry Mejia had a strong five-inning showing, the apparent front-runner Matsuzaka blanked the St. Louis Cardinals into the seventh inning. That seemingly locked in Matsuzaka as a member of the Mets' rotation.
Mets officials huddled after Monday's 5-3 win to cement their plans. An official announcement should come no later than Tuesday.
Because of Matsuzaka's considerable big-league service time, and with him being on a minor-league contract, the Mets must inform Matsuzaka by noon Tuesday whether he has made the Opening Day roster. Otherwise, they must give him a $100,000 retention bonus to send him to the minors, or cut him loose.
"I think I've done pretty much everything I can and shown what I can do out there," Matsuzaka said through interpreter Jeff Cutler. "The decision is up to them now and we'll see what happens."
Dice-K vs. Mejia
A head-to-head look at the 2014 Grapefruit League stats of Daisuke Matsuzaka and Jenrry Mejia.
Said Terry Collins: "It certainly gives him an edge, because he's done it before, and he's done it a lot. But certainly, with the way Jenrry threw yesterday, he's got to be in that mix."
There has been vigorous internal debate in recent days about whether Matsuzaka or Mejia merited the final slot in the rotation, although in-the-know sources consistently have portrayed Matsuzaka as the expected choice to pitch the fourth game of the season, against the Cincinnati Reds on April 4 at Citi Field.
The Mets most likely will carry four starting pitchers through the first five games of the season, until Jonathon Niese is activated from the disabled list for an April 6 start against Cincinnati. That seemingly would allow the Mets to carry extra bench player Andrew Brown for the opening four games.
Still, the Mets do not figure to option Mejia to Triple-A Las Vegas until the very end of camp, assuming that becomes his fate.
That is because if Niese suffers a setback in Thursday's planned minor-league game and will clearly miss substantial time, the Mets can carry both Matsuzaka and Mejia as starting pitchers.
Mejia is due to start Friday's exhibition game in Montreal against the Toronto Blue Jays, while Matsuzaka starts the following day, also at Olympic Stadium.
Once Mejia is optioned to the minors, he must spend the first 10 days of the season with Las Vegas, unless a player simultaneously is placed on the disabled list. So there is no urgency demoting him.
Mejia has an understanding with the Mets that he will not be considered for a relief role.
Matsuzaka's final line Monday: 6+ IP, 3 H, 1 R, 1 ER, 3 BB, 5 K, 1 HBP.
He struck out the side in the first inning. In each of the next two innings, Matsuzaka surrendered a hit and a walk, but escaped each time with a double play. He departed with a 4-0 lead after his 88th pitch, a curveball, plunked Stephen Piscotty in the helmet to open the seventh inning.
Vic Black, who has struggled mightily this spring training, allowed the inherited runner to score.
Matsuzaka has a 3.86 Grapefruit League ERA in 18 2/3 innings. Mejia has a 2.89 ERA in 9 1/3 innings.
"Throughout spring training, conditioning-wise I felt great. My body was great," Matsuzaka said. "But the results weren't exactly what I was hoping them to be. So today I went out there knowing this would be my last chance to show what I could do out there. …
"Today my actual pitches probably weren't the best they've been. But because of that I was able to focus a little bit more, be a little bit more careful as to what I did, how I pitched. And that led to the results today. That's something to definitely take away going forward."
Said Collins: "His cutter is really getting to be effective for him. He's getting it in on lefties. He's getting it underneath their hands, where you want it. He threw a breaking ball in about the fifth inning that was about as good a breaking ball as you can throw. When he's got all his pitches working for him, he's tough to hit. He still can get swings and misses. Today I thought he did such a good job. He stayed out of the middle of the plate, which he has the ability to do."