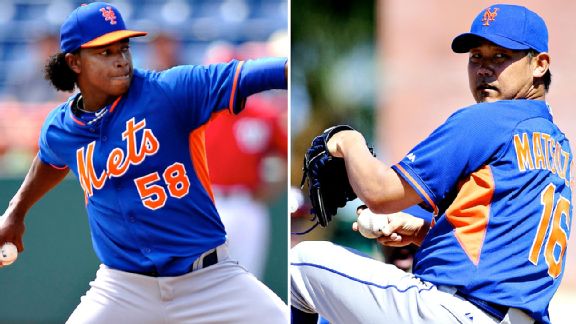 USA TODAY Sports
The Mets delayed a decision on Jenrry Mejia versus Daisuke Matsuzaka. Both may be needed anyway.VIERA, Fla. -- The Mets have agreed to pay $100,000 to Daisuke Matsuzaka to preserve the right to have him open the season not on the major-league roster.
Officially, the payment defers for another turn a decision on whether Matsuzaka or Jenrry Mejia will emerge as the final rotation member. Mejia is due to pitch against the Toronto Blue Jays on Friday in Montreal, with Matsuzaka pitching at Olympic Stadium the following day.
"The competition is still open," Sandy Alderson said. "It doesn't mean the competition is going to be determined exclusively on those two outings, but we weren't prepared to make a final decision today. ... We either had to put him on the team today and essentially make him the fifth starter or pay the $100,000. We went with the cash.
"We step out of line every once in a while," the GM jokingly added, alluding to the Mets' spending of discretionary cash merely to defer a decision.
In reality, the $100,000 payment was not merely as simple as an opportunity to delay a rotation decision. It also can be viewed as an investment to carry an extra bench player for the first five games of the season.
If Jonathon Niese is unable to return from the disabled list for Game 6 of the season, the Mets would need both Mejia and Matsuzaka as starters. But once Mejia is optioned to minor-league camp, he essentially cannot return the first 10 days of the season, so he could not step up and take that Niese start.
Alternatively, Matsuzaka, on a minor-league contract, could be held back in camp without ever going to the minors. Then, if Niese ends up not being available for Game 6, Matsuzaka's contract could be added at that point.
By having only one of those two starting pitchers on the roster for the season's first five games until there is clarity with Niese, the Mets can carry an extra bench player during that span.
Bottom line: It is conceivable that the Mets have Mejia make one big-league start, likely April 4, while they gauge whether Niese is OK, all while carrying an extra bench player. If there is a problem with Niese being activated from the DL, Matsuzaka could make that April 6 start in the roster spot of the extra bench player. If Niese is determined to be OK for that start, then the Mets could purchase Matsuzaka's contract anyway and demote Mejia if they chose, after only one Mejia start. Or they could just stick with Mejia if he does well in the one chance, since he has supporters anyway.
Matsuzaka, based on his status, was required to be informed by noon Tuesday if he had made the big-league roster. Otherwise, the Mets had to give him $100,000 for the right to send him to the minors, or cut him loose.
"There are some rules issues that are factors," Alderson acknowledged. "So there are a couple of different things at play. But it doesn't mean we don't believe Jonathon is going to be ready to pitch on the 6th. If he's not able to pitch in the 6th, it would be nice to have both Daisuke and Mejia available to us. But ultimately we will have to make a choice. And we are going to make that choice probably on Saturday."
Alderson would not handicap the race, but added: "What happens on Friday and Saturday isn't necessarily going to be determinative. I don't want to set up the expectation that somebody throws a shutout and the other one doesn't that suddenly he has won the competition. But I don't want to get into the other considerations. ... We want to take the right guy. Not the guy that is pitching the best at the moment, but the guy that gives us the best chance to win 90 games."
The GM did note Matsuzaka could not stop a minor-league assignment, at least until his June 1 contract out.
"He's with us," Alderson said. "Unless he decides not to report in the event he doesn't make the major-league club, he's with us. That's the reason for writing a check today. But I don't have any indication he would leave if he doesn't win that spot on the roster."
As for Mejia, who logged only 52 innings last season because of injury, Alderson floated 120 to 125 innings as a potential goal.
Explaining why relief is off the table for Mejia, Alderson said: "I think we've just decided, look, this guy, he doesn't want to relieve, or he hasn't expressed a desire to relieve, or a willingness to relieve. We're not sure, given his injury history, coming out of the pen, getting up and down, pitching on multiple days, back-to-back, is really in his best interest. At this point, given his mindset and given his potential -- whether it's at the major-league or minor-league level -- we want to run him out there [as a starter] and see what happens."