"I'm sure there was [a mechanical change]. We're always kind of tinkering with mechanical things. But I think 90 percent of it is I just changed mentally. I got a lot more aggressive. This game is all confidence, too. Mentally you have to be in the right spot for success. I think now that's the biggest part of my game." -- Dillon Gee on his 2013 transformation
What got Mets pitcher Dillon Gee to the point of being worthy of the Opening Day assignment against the Washington Nationals on Monday?
You can look back to the first two innings of the start against the New York Yankees on May 30 that turned Gee's 2013 season around.
Dillon Gee in 2013
That game actually didn't start well for Gee, similar to a season that began with a 6.34 ERA through 10 starts.
Gee's first two pitches were sub-90 fastballs right down the middle, and Brett Gardner and Robinson Cano each lashed singles.
But Gee escaped trouble, striking out Vernon Wells on three pitches, the last two sliders that were unreachable, off the outside corner, whiffing Travis Hafner on a 2-2 changeup that faded as if it had a tail and dropped just below the knees, then getting Lyle Overbay to hit a changeup in almost the same spot for a comebacker.
In the second inning, the Yankees put two men on base and again, Gee's offspeed stuff provided the necessary edge. He got Reid Brignac to chase another fading changeup and induced a 5-4-3 double play from Austin Romine on a slider.
From there, the game took care of itself. Gee went 7 1/3 innings, allowing one run and four hits, with a career high 12 strikeouts on an economical 88 pitches.
Those pitches marked the beginning of Gee's total turnaround.
An improved changeup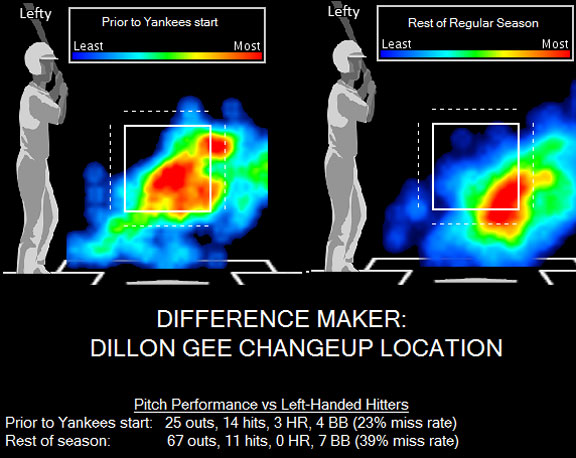 Through the first 10 starts of the season, lefty hitters torched Gee, hitting .337, with a .420 on-base percentage and .519 slugging percentage against him.
The problem for Gee was that, as he returned to pitching after battling the blood clot that cost him the end of the 2012 season, he didn't have a go-to pitch. As you can see in the image above, his changeup was flat, and more often than not, it stayed over the heart of the plate. Ryan Howard twice mauled it for home runs and Carlos Gonzalez clocked one 446 feet to right-center at Coors Field.
But Gee was able to fix what ailed him and the turnaround started with those two at-bats against Hafner and Overbay in the first inning against the Yankees.
The pitch was at his best for him during a 10-start stretch spanning June 17 to Aug. 8, during which opponents were 1-for-41 with 10 strikeouts (and four walks) against it.
"When you're up in the strike zone, you're not finishing your pitches," said one NL scout who saw Gee multiple times last season. "That could have been a health issue, where he didn't have the confidence to finish his pitches. As the season wore on, he had more confidence and better endurance, and was able to get the ball down better."
The breaking ball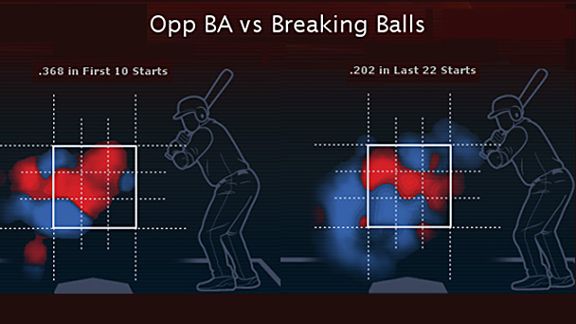 Similarly, Gee could not locate his breaking ball effectively in those first 10 starts, leaving way too many hangers over the plate to right-handed hitters. The Braves, Marlins and Phillies all took advantage and that was a big reason for Gee's 6.34 ERA.
"I thought his delivery was messed up the first [part of] last year," said Mets pitching coach Dan Warthen. "And then we found the delivery. As soon as that happened, the ball went where he wanted to. He wasn't trying to hang balls in the middle of the plate."
That strikeout of Wells began a period in which Gee was able to put the breaking ball where he wanted to with consistency. He began getting right-handed hitters to chase the pitch, as you can see from the volume of the blue blob in the image above.
Gee's success with the breaking ball paid immediate dividends. The Yankees start began a four-start stretch in which Gee allowed only five runs in 29 1/3 innings (a 1.53 ERA).
In those four starts, righties went 2-for-25 with 13 strikeouts (and one walk) against Gee's curve and slider.
The payoff
Beginning with that start against the Yankees, Gee posted a 2.71 ERA. There were a few imperfections along the way, but the change was pretty remarkable.
"The whole Opening Day starter thing, you can think what you want, but it's a tremendous honor and well deserved," said David Wright, "especially with being a start away from who knows what and then throwing the way he did against the Yankees and finishing up, like I said, one of the most productive pitchers in the game."
Now it's up to him to maintain it in 2014.