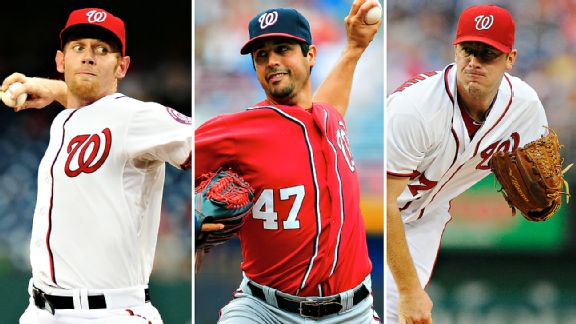 USA TODAY Sports
The Mets will face Stephen Strasburg, Gio Gonzalez and Jordan Zimmermann in a season-opening series against the Nats at Citi Field.METS (74-88, third place/NL East) vs. WASHINGTON NATIONALS (86-76, second place/NL East)
Monday: RHP Dillon Gee (1211, 3.62) vs. RHP Stephen Strasburg (8-9, 3.00), 1:10 p.m. ET
Wednesday: RHP Bartolo Colon (18-6, 2.65) vs. LHP Gio Gonzalez (11-8, 3.36), 7:10 p.m. ET
Thursday: RHP Zack Wheeler (7-5, 3.42) vs. RHP Jordan Zimmermann (19-9, 3.25), 1:10 p.m. ET
Nationals short hops
• First-year manager Matt Williams, 48, arrives from the Arizona Diamondbacks, where he served the past three seasons as Kirk Gibson's third-base coach. Williams was a five-time All-Star as a player. He had a relationship with Nats GM Mike Rizzo from their D-backs days.
Mitchell Layton/Getty Images
Matt Williams is the first-year manager of the Nats.
Compared with predecessor Davey Johnson, Williams is expected to have the Nats much more aggressive on the bases trying to manufacture runs. Washington's coaching staff remains basically intact, including Randy Knorr -- a managerial finalist -- continuing as bench coach.
• Third baseman Ryan Zimmerman's throwing yips seemed to become even more pronounced during spring training on plays in which he has time to set and throw. The Nats may use Zimmerman on a limited basis at first base against difficult left-handers in place of Adam LaRoche. Zimmerman logged two Grapefruit League innings at first base. Once LaRoche's contract expires after this season, Zimmerman could make a full transition across the diamond. Washington is expected to choose a $2 million buyout for LaRoche over a $15 million option for 2015.
• The Nats further upgraded their rotation by stealing Doug Fister in a trade from the Detroit Tigers, who were looking to shed payroll. Fister, who is under Washington's control through the 2015 season, avoided arbitration by agreeing to a $7.2 million salary for this year. He went 14-9 with a 3.67 ERA in 33 appearances (32) starts last season with Detroit. Fister did lose three weeks of spring training because of elbow inflammation. The Nats hoped Fister would return from the DL to start the season's sixth game -- the same type of plan the Mets have with Jonathon Niese. But then Fister strained a lat muscle Thursday. The Tigers received Steve Lombardozzi, Ian Krol and pitching prospect Robbie Ray in the trade.
• The Washington additions of note on the position-player side: catcher Jose Lobaton from the Tampa Bay Rays on Feb. 13 to serve as Wilson Ramos' backup, and ex-Pirate/Brave Nate McLouth as the fourth outfielder, which will allow the regulars to get more time off. Lobaton's acquisition prompted the release of Chris Snyder. The Nats then picked up Kevin Frandsen at the end of camp as the 25th man and as a righty-hitting first-base option. Frandsen had opted out of a guaranteed $900,000 contract days earlier with the Philadelphia Phillies after being sent to Triple-A. Frandsen was deemed a better option than in-house candidates Jamey Carroll and Tyler Moore.
• Stephen Strasburg had bone chips removed from his right elbow in October. He unknowingly pitched with the issue last season. Strasburg emphasized holding runners during camp and added a slider.
• Bryce Harper had knee surgery in October to address bursitis, which hampered him last season.
• Closer Rafael Soriano had a rough spring training. He allowed nine earned runs and 12 hits in 5 2/3 innings during Grapefruit League play.
• A year ago, after the departures of Sean Burnett, Tom Gorzelanny and Mike Gonzalez as free agents, the Nats entered the 2013 season lacking capable lefty relief. In fact, Zach Duke was the only southpaw in the bullpen to open the year. Now, Washington seemingly has remedied that issue. Former first-round pick Ross Detwiler, after losing out on a rotation spot, has shifted to the bullpen. Washington also acquired Jerry Blevins from the Oakland Athletics on Dec. 11 for minor-leaguer Billy Burns. Gonzalez also was back in camp during spring training. He was released Tuesday, but re-signed on a minor-league deal and is ticketed for Triple-A Syracuse.
• Washington hopes to lock up Jordan Zimmermann on a long-term deal, although it would be costly. Zimmermann wants to be paid like a No. 1 starter, which means at least a $150 million commitment. He is eligible for free agency after the 2015 season.
• Shortstop Ian Desmond and second baseman Anthony Rendon form the middle infield, which Danny Espinosa back on the big-league club as the backup. Espinosa, a starter in 2011 and '12, was demoted to Triple-A Syracuse last June with a .158 average and did not return -- even on a September call-up. That decision prevented Espinosa from Super 2 status and arbitration eligibility a year early.