Elsa/Getty Images
John Lannan reacts after serving up a three-run homer to Anthony Rendon in the 10th inning on Opening Day.NEW YORK
FIRST PITCH: The Mets take a pause after an Opening Day loss before regrouping for Game 2 of the season.
Bartolo Colon will make his Mets debut opposite Washington Nationals left-hander Gio Gonzalez at 7:10 p.m. Wednesday at Citi Field. Because a southpaw is starting for the Nats, righty-hitting Josh Satin is expected to start at first base.
There will be one thing to watch on the off day: Jonathon Niese is scheduled to pitch another minor-league game in Florida. This is the final tune-up hurdle for Niese, who opened the season on the disabled list. The Mets are eyeing activating Niese from the DL on Sunday.
Niese is working back after receiving a cortisone injection in his left elbow to address inflammation. He also was slowed early in camp by shoulder weakness.
Tuesday's news reports:
• Andrew Brown and Juan Lagares homered, but Bobby Parnell blew the save with two outs in the ninth and Jeurys Familia and John Lannan combined to surrender five runs an inning later in a bullpen implosion. The Mets ultimately lost to Washington, 9-7, in 10 innings in the season opener before an announced crowd of 42,442. Dillon Gee departed with a 4-3 lead and two runners on base, but received a no-decision after Carlos Torres and Scott Rice combined to throw eight straight balls and force in the tying run.
Read game recaps in the Times, Post, Daily News, Star-Ledger, Record, Newsday and at MLB.com.
Read more in Gee in the Post.
Read more on Brown and Lagares in the Post and Star-Ledger.
Read more on the bullpen's struggles in the Post, Star-Ledger and Newsday.
• Daniel Murphy missed Opening Day because his wife Tori was giving birth to the couple's first child, son Noah, in Florida on Monday. Chris Young was out of the starting lineup because of a quadriceps strain. Meanwhile, several players were dealing with the flu, including Ike Davis, who was late taking the field for the first pitch because of what the first baseman described as an illness. Read more in the Star-Ledger and at MLB.com.
• Michael Salfino in the Journal was unimpressed with the Mets' Opening Day lineup minus Murphy and C.Y. Writes Salfino:
With second baseman Daniel Murphy and center fielder Chris Young both sidelined for the team's 9-7 loss on Monday, the Mets were forced to start a patchwork lineup on the very first day of the season -- one that combined for a .689 on-base plus slugging percentage last year. That's the ninth-worst prior-year OPS for an opening-day lineup in team history and the worst since 1983, when the Mets finished 68-94.
Even if Murphy and Young had been in the lineup, it would have raised the Mets' prior-year OPS to .703, still the worst since 1984, according to Stats LLC.
• The Mets signed 40-year-old Bobby Abreu and assigned him to Triple-A Las Vegas. Read more in the Daily News and Newsday.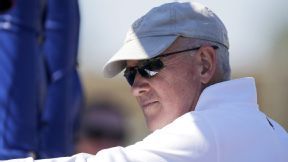 Jeff Roberson/Associated Press
Sandy Alderson says 90 wins is not a guarantee.
• Sandy Alderson said his 90-wins mantra is a goal, not a guarantee.
Writes columnist Kevin Kernan in the Post:
Do these Mets have the talent to win 90?
"Let me put it this way," a most skeptical scout, who has followed the Mets all spring, said before the first pitch. "Would this team be happy with 80 wins? I think they'd sign up for that right now."
Writes columnist Tara Sullivan in the Record:
If Alderson really believes this is a 90-win team, he should have done more to fill the roster with 90-win players. He should have plugged the leaks in his middle infield instead of settling on Daniel Murphy and Ruben Tejada. He should have signed a reliable power-hitting first baseman, instead waging a war of mediocrity between Ike Davis and Lucas Duda. He should have revamped a bullpen he admitted was the weakest leak last season, instead of relying on the likes of Carlos Torres (one four-pitch RBI walk), Scott Rice (one four-pitch RBI walk), Bobby Parnell (blown save) and Jeurys Familia (losing pitcher of record).
Instead, he framed the season with a stark delineation of success or failure, a hard number that feels like a setup, particularly for embattled manager Terry Collins.
Writes a more supportive columnist, Dave D'Alessandro in the Star-Ledger:
But the pummeling Alderson has taken since his remarks were leaked 35 days ago raises another question (not the one about his meds): Since when did it become a bad thing to set high standards?
Because it shouldn't be a bad thing. Not if it is a clear-eyed-and-sober affirmation, rather than something pulled out of Jim Dolan's Easter bonnet.
Read other 90-win-mantra recaps in the Times, Daily News, Star-Ledger and Newsday.
• New York City Mayor Bill de Blasio was booed at Citi Field while throwing out the ceremonial first pitch. Read more in the Post and Daily News.
• The pregame festivities included a tribute to the late Ralph Kiner, the legendary broadcaster and Hall of Fame player. Read more in the Post, Daily News and Newsday.
• Jim Kelly, who helps scout upcoming Mets opponents by video, will travel with the Mets and serve as the person deciding whether to challenge umpires' calls.
• Jenrry Mejia remains on track to start Friday against the Cincinnati Reds after having his right forearm examined by a team doctor. Mejia had been struck by a liner Friday in Montreal.
• The Nats suffered a pair of injuries Monday. Catcher Wilson Ramos received a left hand injury and will see a specialist Tuesday. Bryce Harper, meanwhile, had a headache but apparently passed a concussion test after his slide into second base resulted in his head getting whacked by Eric Young Jr.'s leg.
• Curtis Granderson went 0-for-5 with three strikeouts in his Mets debut. Read more in the Post, Daily News and Newsday.
• Duda saw late action at first base Monday after Davis was double-switched out of the game. For now, Davis, Duda and Satin all will see time -- although Alderson noted the Mets will need to drop a position player, first baseman or otherwise, this weekend when Niese is activated from the DL. Read more in the Post.
• Washington lost the first-ever video-review challenge at Citi Field, in the 10th inning on a play Danny Espinosa apparently correctly was ruled out at first base. Read more in the Post.
• From the bloggers … Blogging Mets reflects on a disappointing Opening Day.
BIRTHDAYS: The new father Murphy turns 29. ... Rusty Staub is 70.
TWEET OF THE DAY:
The #Mets should have vendors come around with tequila shots once that first call to the bullpen is made...

— Adam Goldberg (@GoldAsIce) March 31, 2014
YOU'RE UP: Should the Mets shake up their bullpen before Game 2 on Wednesday?