2011 first-round pick Brandon Nimmo had no shortage of role models while training at IMG Academy in Bradenton, Fla., this winter. His workout partners included National League MVP Andrew McCutchen, All-Star Pedro Alvarez and Red Sox left-hander Felix Doubront.
NFL prospects trained alongside too, including Ohio State linebacker Ryan Shazier and Louisville quarterback Teddy Bridgewater.
"Cutch doesn't act like an NL MVP at all," Nimmo said. "He's a very down-to-earth guy. He's very much like [Curtis] Granderson, where any questions that I had he would answer them, and anything that I needed he would come right to me and be honest with me. It was just awesome to be around that kind of guy and understand what kind of work ethic will get you there."
The 21-year-old Nimmo arrived at IMG weighing 187 pounds. He departed at 207, which he believed translated into success while in big-league camp during spring training. Albeit in a small sample size, Nimmo hit .429 (3-for-7) with an RBI and two walks in Grapefruit League play.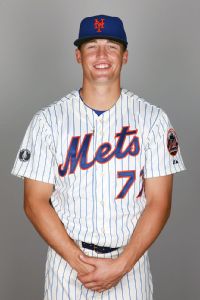 Eliot J. Schechter/MLB Photos
Brandon Nimmo
"They put 20 pounds on me," said Nimmo, a 6-foot-3 outfielder from Wyoming. "And it was really good muscle. None of it was bad weight. I had a nutritionist watching what I was eating. We just did it the right way. And I felt like that was what I needed. I felt like I needed to move on and train a little bit more like a professional. Obviously now you see the results of that physically."
Nimmo hit .273 with two homers, 40 RBIs and 10 steals and had a .397 on-base percentage in 480 plate appearances with low-A Savannah in 2013. Yet it was an uneven, complicated season.
Nimmo was hitting .444 two weeks into last season, but all of a sudden went into a nosedive, including going hitless in 20 at-bats over five games before disappearing from the Gnats lineup for a month.
Nimmo suffered a hand injury that resulted in a dislocated joint and partial tear of a couple of ligaments. The problem: The injury went undetected by an MRI taken in Savannah. So Nimmo resumed playing in late May and the issue lingered the whole season. He eventually was checked out by Mets doctors in New York and the full extent of the injury was discovered.
"It was a situation where we got the MRI done in Savannah, and it happens where nothing showed up, so I played the rest of the season with it," Nimmo said. "I let the people know afterward it still wasn't all the way there. I went to New York and that's when we found out everything that happened. And we went to Cleveland, too, and saw a pretty good hand doctor there, Dr. Thomas Graham. He said, 'It isn't going to change things. You don't need surgery. They've already repaired themselves. You're just going to have to get it stronger.' And, actually, we took a couple of months off."
Nimmo insisted he did not want to use the hand injury as an excuse for his season.
"I came back because I wanted to play," he insisted. "And we felt like nothing was really wrong there. The one thing I noticed was I never fouled so many balls straight back. I didn't quite have my top hand on top of it. It happens. You've got to learn how to play with injuries sometimes. It just was a learning experience for me."
The Gnats won the South Atlantic League title, so Nimmo did participate in a championship. But his first-half teammates and friends, including Kevin Plawecki and Jayce Boyd, had received midseason promotions to high-A St. Lucie while Nimmo was snubbed.
"With how I started I felt like I should have left earlier," said Nimmo, who opens this season in the Florida State League. "But I didn't play the way that I was supposed to after that point. After April, I didn't deserve a promotion. So it's nothing against the Mets. I was mad at myself for not playing better. I feel like if I would have played at my best, maybe I could have got to St. Lucie. But I didn't. I didn't play my best. And so I needed to learn more in Savannah. And then I got to win a championship with them. It ended up working out well.
"Kevin is one of my best friends. Me and him compete. And Jayce is one of my best friends out here, too. We really thrived off of each other and really got a lot of information from each other. So obviously those two leaving, yeah, I was upset with myself about not being there. I just took it as I needed to get better. And I felt like I finished the season well."
What's on Nimmo's agenda to learn? He spent spring training working on covering more ground in the outfield, including putting his head down when a ball is clearly over his head and taking the first three strides full throttle before trying to locate the baseball. Offensively, being able to hit the curveball with two strikes is one thing to hone.
Nimmo, by the way, is fully aware of who was taken with the pick immediately after him in 2011. After the Mets selected Nimmo 13th overall, the Marlins used the next pick on now-reigning NL Rookie of the Year Jose Fernandez out of high school in Tampa.
Nimmo said there was not extra pressure on him because of Fernandez's achievements. He noted he has been facing Bryce Harper since the Nat was on a travel team for 9-year-olds out of Denver called the Rocky Mountain Steel.
"He was 6-2, 185 when we were 12 years old. I mean, he was a beast," Nimmo said about Harper.
As for the Mets picking him over Fernandez, Nimmo opined: "If everybody knew how it was going to turn out, I think he probably would have went No. 1 overall. There were 12 other teams that passed on him, too. But I can't put any pressure on me. I played against Harper since I was 9 years old. I played those guys. There's nothing that I can do. I'm myself. I just have to control what I can control and just go out there and have fun.
"It's the way it is. They're very talented. Very talented. And they learned the game a little bit quicker than I did. I don't feel like I'm going to be anywhere behind them. I think I'm going to be playing against them one day and on the same playing field, but it just took me a little bit longer. I hope to face [Fernandez] 1,000 more times, hopefully in the big leagues. We'll see how it goes. But no more pressure. I'll just be myself and play."
2013 organization leaders
Average: Jayce Boyd, St. Lucie, .330; Jeff McNeil, Kingsport, .329; Wilmer Flores, Vegas, .321; Eric Campbell, Vegas, .314; Kevin Plawecki, St. Lucie, .305; Yeixon Ruiz, Kingsport, .304; Dominic Smith, Kingsport, .301; Jhoan Urena, GCL Mets, .299; Jeyckol De Leon, Kingsport, .298; Zach Lutz, Vegas, .293.
Homers: Dustin Lawley, Vegas, 26; Travis Taijeron, Binghamton, 23; Allan Dykstra, Binghamton, 21; Cesar Puello, Binghamton, 16; Wilmer Flores, Vegas, 15.
RBIs: Dustin Lawley, Vegas, 96; Wilmer Flores, Vegas, 86; Jayce Boyd, St. Lucie, 83; Allan Dykstra, Binghamton, 82.
Steals: Darrell Ceciliani, Binghamton, 31; Alonzo Harris, Binghamton, 25; Cesar Puello, Binghamton, 24; Eudy Pina, Savannah, 21.
ERA: Rob Whalen, Kingsport, 1.87; Miller Diaz, Brooklyn, 2.03; Chris Flexen, Kingsport, 2.09; Robert Gsellman, Brooklyn, 2.58; Gabriel Ynoa, Savannah, 2.72; Rafael Montero, Vegas, 2.78; Rainy Lara, St. Lucie, 2.85; John Gant, Brooklyn, 2.89; Matt Bowman, St. Lucie, 3.05; Noah Syndergaard, Binghamton, 3.06.
Wins: Gabriel Ynoa, Savannah, 15; Rafael Montero, Vegas, 12; Logan Verrett, Binghamton, 12; Matt Bowman, St. Lucie, 10.
Saves: Jeff Walters, Vegas, 38; T.J. Chism, St. Lucie, 20; Beck Wheeler, Savannah, 19; Robert Carson, Vegas, 11; Bret Mitchell, St. Lucie, 10.
Strikeouts: Rafael Montero, Vegas, 150; Noah Syndergaaard, Binghamton, 133; Logan Verrett, Binghamton, 132; Erik Goeddel, Binghamton, 125; Luis Cessa, Savannah, 124.
Short hops
• Right-hander Cory Mazzoni, who strained his right triceps in the Grapefruit League finale, remained in Port St. Lucie when Triple-A Las Vegas players broke camp. The injury is considered "nothing significant" and Mazzoni is unlikely to miss much time, a Mets official suggested. Still, Mazzoni is due for a follow-up appointment with team doctors in New York.
• With Mazzoni left behind, Logan Verrett -- who had been ticketed for Double-A Binghamton -- instead joined a 51s rotation that also includes Rafael Montero, Noah Syndergaard, Jacob deGrom and Daisuke Matsuzaka.
• The starters for Thursday's openers: Montero for Las Vegas, Darin Gorski with Binghamton, Gabriel Ynoa at St. Lucie and Robert Gsellman at Savannah.
• Syndergaard is expected to make his Triple-A debut Friday. He will not be on a stricter pitch limit or innings count than any other Vegas starter.
• Frank Viola, who was due to be the 51s' pitching coach, is scheduled to undergo open-heart surgery Wednesday morning.
• Wilmer Flores is making a cameo at Citi Field with Daniel Murphy going on paternity leave. When Flores returns to Triple-A, he will play more shortstop than second base with the 51s.
• The Mets have selected a high school player with their top pick each of the three years Paul DePodesta has run the draft. In the first two cases, with Nimmo and shortstop Gavin Cecchini, the prospect opened the next year -- his first full professional season -- in extended spring training as opposed to low-A Savannah. 2013 first-rounder Dominic Smith breaks that trend. The 18-year-old first baseman will open this season with the Gnats because "we think Dominic will get more out of competing in Savannah than he would get spending the next two months in extended spring. However, we fully understand what a difficult environment Savannah is for a hitter, especially a young, left-handed hitter," a team official said.
• Why is lefty reliever Jack Leathersich opening the season in Double-A after posting a 1.53 ERA in 29 1/3 innings there in 2013 and finishing the year in Vegas? Overcrowding with the 51s. That is the same reason left-hander Adam Kolarek and right-hander John Church also are opening the season in the B-Mets bullpen.
• Chase Huchingson, who is suspended through mid-May after last season testing positive a second time for a drug of abuse, is due to report to the Mets' Port St. Lucie complex next weekend. With a lack of lefty relievers, the 24-year-old Huchingson could end up contributing to the big-league bullpen by the season's end. He had a 1.61 ERA in 45 appearances for the B-Mets in 2013.
• Dustin Lawley, who slugged 25 homers in the Florida State League last season before moving to Vegas in time for the playoffs, will play outfield and third base with Binghamton in 2014. He should get pregame work at second base, too.
• Mets minor-league personnel indicated they had not yet received instructions from the front office about how to use newly signed 40-year-old Bobby Abreu at Vegas. The Mets have outfielders Matt den Dekker, Kirk Nieuwenhuis and Cesar Puello with the 51s, too.
• First baseman (and part-time outfielder) Brandon Allen, who was still wearing a walking boot on his strained right calf when the Mets broke camp, opens the minor-league season on the DL. Allen, 28, has appeared in the majors with Arizona, Oakland and Tampa Bay over four seasons.
• Bronx native Jon Velasquez, who pitched for the independent Camden Riversharks the past two seasons, has been assigned to Binghamton. The right-hander was signed out of indy ball by the Twins early in the offseason, then grabbed by the Mets in a minor-league phase of the Rule 5 draft.
"Farm report" appears Wednesdays during the minor-league season